Wounded veterans and their spouses encounter God during Week Nine of Operation Heal Our Patriots.
Bendice el matrimonio de una pareja militar
013960
Air Force Technical Sergeant Brian Pope and his wife Sara, Airman First Class, were all set to attend Operation Heal Our Patriots last summer when their plans suddenly changed. Brian had to be placed in a 30-day in-patient program because he was having suicidal thoughts. Their week in Alaska was put on hold.
It was a dark season. Brian said the trauma he'd experienced seemed impossible to overcome, and he had lost his will to live.
Sara was also struggling. She'd supported Brian through five deployments and was ready to have him home with her and their two children—but he returned from war a different man.
Brian was a dog handler for the first 10 years of his Air Force career. He and his canine partner, Ajax, searched for explosives.
During an incident in 2008, Brian and Ajax barely escaped with their lives. Although the trauma from that near death experience haunted Brian, he continued to lead a successful military career.
Eight years later, working as a load master, Brian was often tasked with transporting injured soldiers out of Afghanistan. One day the response was to evacuate a dog handler and his canine.
This experience triggered memories and overwhelmed Brian with flashbacks of his own narrow escape. He took off his flight suit and laid down in the plane with the injured team.
For years, Brian had successfully compartmentalized his trauma, but eventually it became too much. He needed help.
"Things just started snowballing in my life," Brian said. "I began isolating myself, ruminating suicide, and having nightmares. The first two months that I was home I was really unaware of what was going on. My family saw significant changes in me."
Right Place at the Right Time
After twenty months of formal military therapy and one month of in-patient treatment, Brian was doing better, but something was still missing.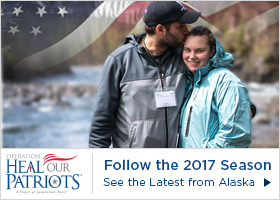 This year Brian and Sara were invited back to Operation Heal Our Patriots, the Samaritan's Purse project aimed at strengthening the marriages of military couples.
The couples—each with at least one spouse wounded in combat after 9/11—come for a week of Biblically based marriage enrichment at Samaritan Lodge Alaska.
Brian agreed to go because a week fishing, hiking, and viewing wildlife in Alaska sounded like a vacation. He thought his wife might enjoy the spiritual aspect since she had been asking him to visit churches with her.
Sara accepted Jesus Christ as her Savior on the first day. She realized that church attendance could not fill the void in her heart that was designed for a personal relationship with her Heavenly Father.
"I broke down the first day and I knew it was the right thing. I feel Him now," she said.
The next morning, Brian also prayed to receive Jesus.
"Last year, I wouldn't have gotten what I needed out of this program," Brian said. "I wasn't there—spiritually, mentally or emotionally. I just wasn't ready."
Now, after accepting Christ, he said, "I felt the burden lifted off of my shoulders. The hate left my heart."
On Friday, July 28, Brian and Sara braved the icy waters of Lake Clark to publicly proclaim their faith in Jesus Christ through baptism. They were among six individuals who were baptized during Week Nine of Operation Heal Our Patriots.
"The hate left my heart."—Brian Pope
Sara and Brian, along with five other couples, also rededicated their marriages to God and each other in a special ceremony on the beach at Samaritan Lodge.
Second Chances
Another couple who made life-changing decisions during Week Nine was Marine Gunnery Sergeant Dustin Hughes and his wife Lindsey.
"I wouldn't be sitting here today had Lindsey not forced my hand," Dustin explained. "She said, 'I love you, but I can't live with you if you don't get help.'"
This shook Dustin to his core. He believed that marriage was a forever commitment, but his was slipping away.
"I was sacrificing to be a successful Marine and that felt like the most important thing until I realized that I was losing what I was actually working for," Dustin said.
"I realized that in the Marines, I can be replaced. Someone else could be trained for my position, but at home, I was a large piece of the puzzle for my family."
Dustin and Lindsey came to faith in Jesus Christ a few months before coming to Alaska.
Lindsey said that all the therapy and retreats Dustin had participated in over the years were only geared toward him. In Alaska, for the first time, the focus was on both of them succeeding in marriage.
Now, they are a team again and looking forward to sharing their love for Christ with their three children.
"This week we have reconnected with God and we have gotten on a good path," Lindsey said.
"We have the tools to help us in the long run because we know that even though we are on a good path now, life is always a bumpy road."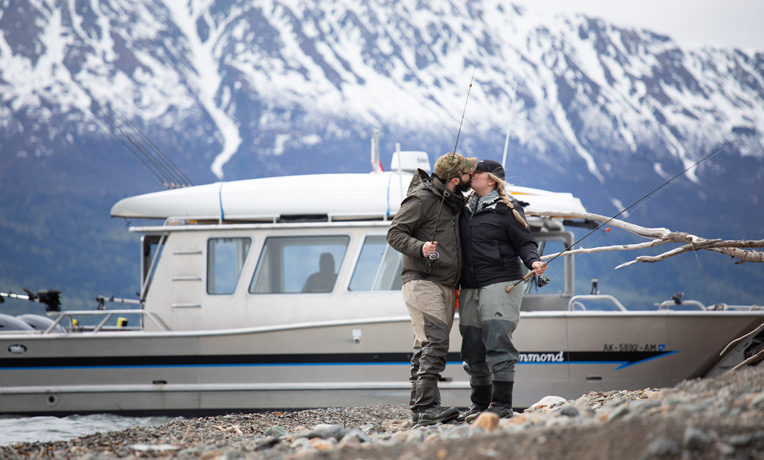 Bendice el matrimonio de una pareja militar
Operation Heal Our Patrios ayuda a las parejas militares a construir una sólida fundación espiritual durante una semana basada en talleres bíblicos, actividades al aire libre para reconstruir relaciones y atención individual, por medio de nuestros capellanes retirados. Ofrecemos todo esto sin costo alguno para estos héroes americanos como una muestra de nuestra gratitud por su servicio y sacrificio. Tu donación nos ayudará a cubrir los costos, inclusive el transporte, hospedaje, actividades y cuidados a largo plazo de las instalaciones, para poder ayudarlos a encontrar esperanza en el Señor.
---
Operation Heal Our Patriots 013960
Donación sugerida: $60