Samaritan's Purse recently completed construction of the Moravian church building in Nunapitchuk. The previous structure fell off its foundation last year. The new facility will be a place for the village to worship God for years to come.
Mary was on her way back to Nunapitchuk after visiting family in Anchorage when her cousin texted with the bad news—the church building had collapsed during the night.
The news was so heartbreaking she couldn't bring herself to walk by the church ruins for about two weeks. Mary Jimmy, 68, had attended the church and played piano during worship services since she was a teenager. Her father helped build the church.
"I cried—it was so hard," she said.
The Moravian church building fell off its foundation and collapsed in 2016 because the frost heave finally became too much. Nunaptichuk is a remote village in western Alaska that sits on a swampy tundra, and as the permafrost shifts and sinks, it turns the soil into a squishy, muddy, spongey mess.
For the last four months, Samaritan's Purse volunteers from across the country have worked tirelessly to construct a new building for the church in Nunapitchuk. More than 140 volunteers invested more than 7,500 hours into the project.
Samaritan's Purse staff and volunteers recently joined area church leaders and the Nunapitchuk village in a ceremony dedicating the new building to God.
"We are here to glorify Jesus on this occasion," said Corey Lynch, Samaritan's Purse director of Alaska projects. "It's time for Samaritan's Purse to hand over the building to the leaders of this church and to the community."
Building God's Kingdom on the Tundra
Nunapitchuk has no roads, only boardwalks barely wide enough for all-terrain vehicles, so construction materials were brought in by barge and Samaritan's Purse aircraft. Once supplies arrived in the village, transportation was still tricky.
"We take a four-wheeler over in a boat to the airstrip, load materials into a trailer, and use the four-wheeler to drive the trailer down to the boat," explained Andy Beauchamp, Samaritan's Purse program manager.
"Then, we drive the boat over to this side of the river and offload it into another trailer so we can drive supplies to the job site. Everything is handled four to five times before it's ever put into the final construction."
Andy said that logistical challenges are well worth the joy of seeing God change hearts in a village where many people have wandered away from Him. Throughout the summer, youngsters who were curious about the project started asking questions. By God's grace, that curiosity led to more interactions, and recently three children received Jesus Christ as Lord and Savior.
"Three young girls prayed and asked Christ into their hearts last week. We sat right in [the kitchen tent] and prayed the sinner's prayer," Andy said.
A Day to Celebrate
Several hundred people attended the dedication that included Scripture reading, special music from different village groups, and messages from God's Word.
During his remarks, Corey Lynch read Isaiah 40:8: "The grass withers, the flower fades, but the word of our God stands forever."
"Preach [the Word] throughout your community," Corey said. "Lead your children and families in the Word of the Lord."
Corey encouraged those in attendance to trust God's Word and to use their new church facility as a "battleground where you can defeat the challenges you face." Victory only comes through the Gospel, he said.
"I pray this is a place of worship where Jesus can come in and change your life and change this village for eternity," he said.
Jones Anaver, pastor of the Nunapitchuk Moravian Church, shared the Gospel and committed to leading his congregation in Gospel truth. He also shared his gratitude to Samaritan's Purse.
"It's difficult to express how much this means—the fact that you simply cared," he said. "Thank you for coming and helping us. Your friendship has become a wonderful addition to our life."
"Thank you for coming and helping us. Your friendship has become a wonderful addition to our life."
Praying for Revival
Mary has lived in Nunapitchuk all her life and longs for her hometown to be one that loves and honors Jesus. She prays that the new church building will be the spark of hope they so desperately need.
"I want it to be a revival for our village," she said.
Mary shared that church attendance has dwindled in recent years, in large part because of drugs and alcohol. Even if someone doesn't drink or do drugs it's likely that a family member does.
As parents have walked away from church, so have their children, and that weighs heavy on Mary's heart.
"I hope this new church will bring them back and every young person will get involved," she said. "I want them to believe there is a God who cares for them."
Louisa Vandeventer manages the village's only store and has attended the church a long time. Like Mary, Louisa has prayed many years for something to help redirect hearts toward God.
"The church building is much needed," she said. "We've been praying for this for so long. It's a long time coming."
A Symbol of God's Love
God brought volunteers from across the country to serve the people of Nunapitchuk. Garry Owens came with a group from Powells Point Christian Church in Harbinger, North Carolina.
"We're trying to make an impact with people," Garry explained. "The building is a tool by which relationships are built and people can see God's love for them."
Garry, a building contractor with "sawdust running through his veins," desires to use his skills for God's glory. He has volunteered with Samaritan's Purse church building projects in other areas of remote Alaska including Galena, Bethel, and Togiak. He's also volunteered on numerous U.S. disaster relief responses.
Garry volunteers because he wants to encourage people with the hope of Jesus Christ, and he prays that the new Nunapitchuk church will help do that.
"I want this village to see the facility as a symbol of God's love and a reminder that other Christians love them," he said. "I pray this village comes to know the joy that comes from serving a Creator who loves us."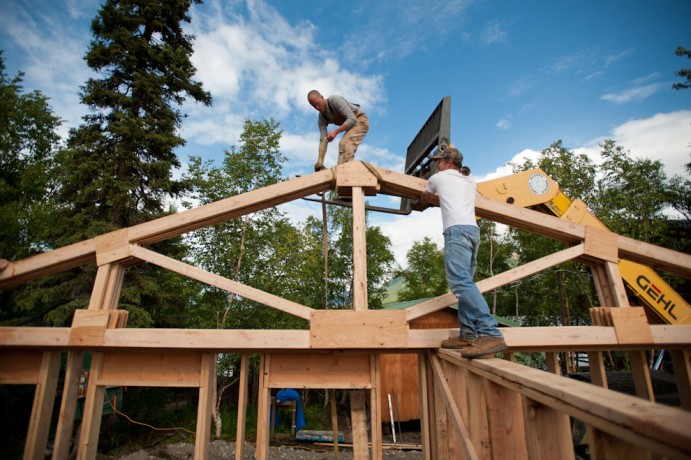 Proyectos Alaska
El personal de Samaritan's Purse y los colaboradores del ministerio trabajan para llevar ayuda práctica y las Buenas Nuevas de Jesucristo a los nativos de Alaska y las regiones adjuntas.