Samaritan's Purse helped homeowners affected by severe weather in North Carolina
John "Bud" Parker was struggling to cope in the aftermath of the terrible winter storm that hit his neighborhood in High Point, N.C.
The 80-year-old widower had endured intermittent power outages in the aftermath of the storm, including one that lasted five days. He couldn't even image how to take care of the downed tree limbs and debris that littered his yard.
Then help arrived in the form of Samaritan's Purse volunteers. The crew cleaned up his yard, removing a burden from his shoulders.
"It just brings God closer to me to know other people out there will help people," he said. "Most people won't do that if there isn't a dollar in it. It just means so much to have people that love the Lord and are doing work."
Samaritan's Purse responded to the winter storm that devastated parts of the state last week by deploying two disaster relief units from our North Carolina headquarters, about two hours away.
One team was based at Fellowship Baptist Church in Burlington. The other was at Oak View Baptist Church in High Point—Bud's home church.
The volunteers did more than help him with a physical burden. By arriving at the time of his greatest need and by praying with him, they also provided spiritual encouragement.
When volunteers presented him with a Bible they all had signed after they completed their work, he was moved by the gift.
"That's something I'll cherish the rest of my life," he said. "They've done a marvelous job. God's still got some people left. God's not dead. He's still got people left."
They included Elaine Stuart, whose house was covered in fallen trees and branches. Even her roof had been hit by downed limbs. One huge branch went through the roof, hanging just above the crib her grandchild often sleeps in. During the storm, another branch went through the window, narrowly missing Elaine. In that moment, Elaine said she knew God spared her life.
Samaritan's Purse volunteers tarped her roof as well as removed the debris that cluttered her yard. Elaine had told one of the volunteers, Judy Wingert, that all she cared about was getting the limbs off her roof. To her, all the other work around the house was an additional blessing.
With tears dripping down her face, she couldn't stop telling Judy how much it meant to her to have the volunteers out working on her property, how God spared her life, and how He had brought the volunteers to her.
Judy spent time getting to know Elaine and comforting her.
"To be somebody's answer to prayer is why we [volunteer]," Judy said. "When I met this homeowner I thought, there's no place I'd rather be. She could never have done it herself. She could not have done this."
The High Point response has completed after finishing 163 work orders with the help of 103 volunteers. The Burlington response completed  after finishing 141 work orders with the help of 129 volunteers.
Please continue to pray for those affected by the storm.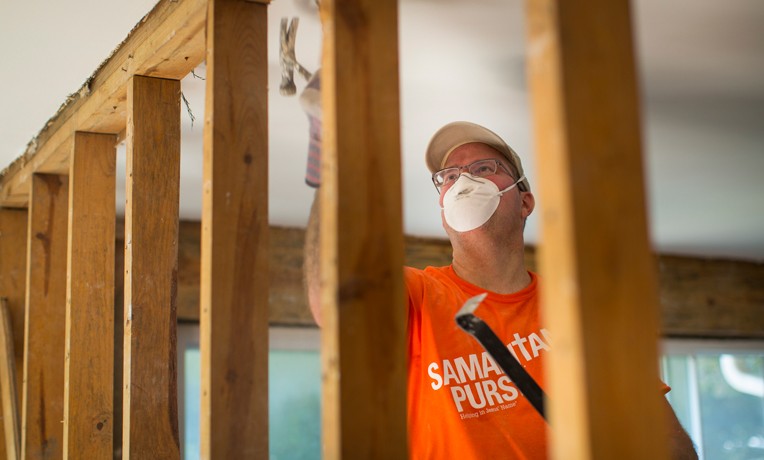 Ayuda para desastres en EE. UU.
Samaritan's Purse moviliza y equipa a miles de voluntarios cada año para ayudar a las víctimas de emergencias dentro de EE. UU. que han sufrido por fuegos forestales, inundaciones, tornados, huracanes y otros desastres naturales. Después de los daños producidos por las grandes tormentas, usualmente nos quedamos para reconstruir casas para las personas que no tienen a dónde más acudir por ayuda.
---
Ayuda para desastres en EE. UU.