A team of runners goes to the Atlanta Marathon and Half-Marathon to raise support for Samaritan's Purse clean water projects in Niger
Sixteen thousand runners crossed the finish line of the Publix Georgia Marathon and Half-Marathon on Sunday, March 17. They received a medal commemorating the achievement of running 26.2 or 13.1 miles, applause and congratulations from family and friends, and the personal satisfaction of having accomplished a goal.
But a special group of 50 participants weren't just running for themselves. They did it for thousands of families in Niger. They were the men and women in blue, bearing their mission "helping in Jesus' Name" on their T-shirts for the world to see.
This year, Team Samaritan's Purse—a group of runners who raise money for our work around the world—returned to Atlanta for its fourth annual event. The goal wasn't just to represent the cross of Christ to thousands in the city, but also to raise funds for clean water projects in Niger. Together, they raised over $20,000.
Some of the runners were participating in their very first race, while others came back a second or third time with us.
Sgt. Jon Owens, a jet mechanic in the U.S. Marines, ran in the marathon last year. He decided to return with his wife, Rebecca, to run the half-marathon by her side. Jon, 33, first heard about Team Samaritan's Purse on the radio in January 2012. He decided to do the Atlanta Marathon with only three months to train.
"Samaritan's Purse came into my living room through the radio and God knocked on my heart and asked, 'Will you run for Me and these children?'" he said.
Jon had seen pictures of poverty and starving children before, but when he browsed photos on the Samaritan's Purse Website this time, it was different.
"What I heard God tell me last year was, 'Jon if you are my child and I take care of you and love you, and these are my children and I love them too, shouldn't you care about them also?' he said.
"We are called to love them, and as long as I have the ability to run, as long as I can move, as long as God gives me the opportunity to get involved, I am here. Because I know it's making a difference. What we are doing today will continue to go on for eternity, and that's why I'm running in Atlanta. God opened a new chapter in my life and gave me a burning passion to do this."
Rebecca was hesitant to join Team Samaritan's Purse at first because she was not a regular runner, but when she witnessed her husband and people of all different ages and backgrounds running the races, she was inspired to do it too.
"I realized these are not special runners," she said. "These are just people with passion."
While Rebecca learned during her training that she could do anything with God's help, Jon realized his second time around that it's not all about the distance, but being obedient to God.
"I wanted to finish the half-marathon with my wife because it's about a team effort," he said. "That's how a difference is made for the kingdom of God."
While Jon was moved by photographs of hurting families, Christina Dowker, 27, saw the need for clean water firsthand. She lived in Africa for three months teaching English and remembered watching children drag dirty jugs far distances to the community wells.
After returning to the United States, she was looking for a way to stay involved. She said joining Team Samaritan's Purse was a good outlet to run a race and raise money for a really worthwhile cause.
"During the cold, early mornings on my runs, I would think about the kids that had to get up and walk to get water," Christina said. "That was my motivation. It's not about me, it's about something so much bigger, and I'm really humbled to be a part of this."
For years, Joi Troutt, 35, ran marathons for sport. As a driven, high-achieving mom of four, the training was taking up a lot of her time and she began to wonder if she should be dedicating so much time to the runs or if she should be training at all. When her husband encouraged her to use her athletic talent for a cause with Samaritan's Purse, Joi seized the opportunity.
"I have a heart for Africa. I've been there on mission trips, and I'm going back there this summer," she said. "It all worked together so perfectly. Finally I get to run for something that means so much to me. So now it's not about the race, it's about these people, and that makes it so much more meaningful."
Atlanta was Joi's toughest run due to the challenging course, but thinking about the people of Niger and having the support of family and friends kept her going.
"Honestly, at mile 13, I did not know how I was going to finish, but I kept praying and asking God for strength and asking for prayers," she said. "It's awesome because my Sunday school teacher sent me an email and said he had the whole department praying for me at 9:30, which was when I was feeling so discouraged. I finished at 4:00:17, which was 18 seconds over what I wanted. But this wasn't about me and God showed me that, and He carried me across that finish line!"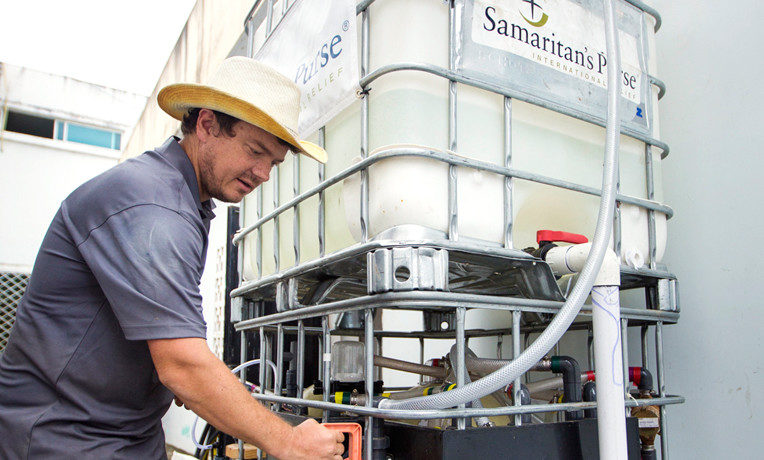 Agua potable
Tu regalo de agua potable podrá proveer tanques, filtros, letrinas y entrenamientos de higiene, así como otras medidas esenciales para proteger los recursos naturales de agua y prevenir la difusión de enfermedades. También buscamos satisfacer necesidades físicas y espirituales en el nombre de Jesús.
---
Proyectos de agua potable 013659
Donación sugerida: $75