Samaritan's Purse is providing clean water to people throughout Kenya who are thirsting for hope.
A majestic sycamore tree stands on the edge of a small stream near Muene Kioko's home village in Kitui County. It beckons people with the promise of water, a basic need that is often scarce in this parched, rugged region of Kenya.
"If there wasn't enough to scoop up with a bucket, we'd squeeze water out of the wet sand," Muene said.
Help Provide Clean Water Around The World
But animals would drink from this same stream, and mothers would wash their clothes in the dirty water. What lurked beneath the surface was a breeding ground for illness and disease.
The sycamore tree was not a beacon of hope at all, but a symbol of despair.
Life changed for Muene and many others not long ago when Samaritan's Purse arrived and rehabilitated an existing well for the community. We dug a deeper hole and added a hand pump, which now gives hundreds of families access to clean water for years to come.
Now, around 450 households never dip so much as a plastic cup into the nearby stream. They have learned that the stagnant water will only bring them disease and sickness.
"Before we would always be getting sick," said Muene, the mother of three young children. "Now we are healthy. I am so grateful."
Muene and several other community members had attended a forum held by Samaritan's Purse to help identify the places that needed our help. They also assisted with some of the construction.
By the end of 2013, our team rehabilitated this borehole, along with 16 shallow wells throughout the area. Now hundreds of mothers like Muene know their children won't be getting sick from the water they drink.
But Muene also believes something much greater has happened as a result of this rehabilitation. She says her growing love for Christ comes from meeting with other community members about the borehole and sharing her faith with them during these gatherings.
"This well has strengthened my faith in Jesus," she said. "I feel like I am born again as a Christian. We share God's love together. We are all growing in our fellowship with one another."
An Outpouring of Hope
Along with our well-digging programs, Samaritan's Purse is also providing household filters to help purify water that may otherwise be contaminated or deadly.
Miles away in the Kinango District of Mombasa, more than 2,100 families now have clean water in their homes. This number will continue to grow before the program in the area concludes in October.
In order for community members to receive a filter, they must construct a latrine and attend training.
"This gives them the incentive to learn how to use a filter and the importance of proper sanitation and hygiene practices," said program manager Abraham Masinde.
Just a few days ago, Beatrice Kongo received filter number 2,104. But Beatrice is not simply a number. She is a mother who can now provide clean water and a better life for her two young children and baby girl.
"We would get sick every other month," Beatrice said. "But now we will be healthy."
The convenience of the new filter sitting in her home is also important. Beatrice considers it a blessing from God.
"I used to walk one hour many times a day to fetch water. And sometimes I would arrive and the water would be dried up," she said. "This makes me so happy. This is an answer to my prayers. Samaritan's Purse is the first organization ever to visit our community, and they have brought us hope."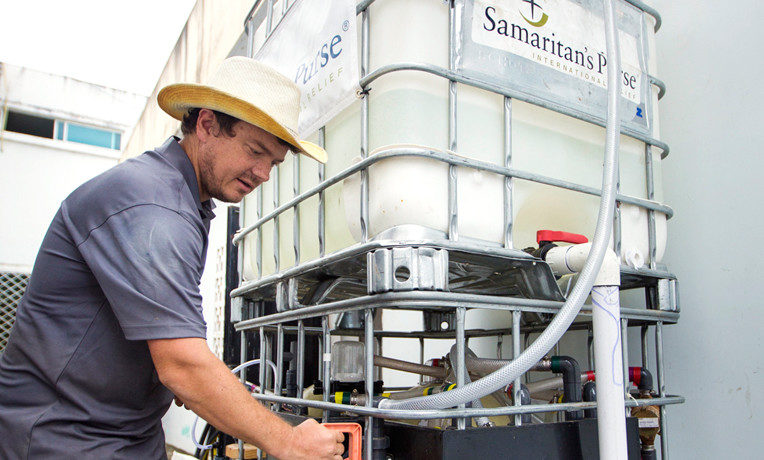 Agua potable
Tu regalo de agua potable podrá proveer tanques, filtros, letrinas y entrenamientos de higiene, así como otras medidas esenciales para proteger los recursos naturales de agua y prevenir la difusión de enfermedades. También buscamos satisfacer necesidades físicas y espirituales en el nombre de Jesús.
---
Proyectos de agua potable 013659
Donación sugerida: $75