Samaritan's Purse is helping residents of Shuqualak, Miss., after a tornado swept through the town Thursday
He heard it coming. They say that an onrushing tornado sounds like a train. Ernest White spends his days listening to the engines pass by his Mississippi home on the neighboring tracks. He knew that this time, it wasn't a train.
Donar
"I saw it coming. I saw it coming across the street," White said. "I saw the wind and I told my wife, 'Shut the door! Shut the door!'"
The twister hit hard, pelting the home with golf ball-sized chunks of ice and vicious winds that ripped his kitchen completely off the building.
The 52-year-old amputee survived the storm by nothing short of a miracle of God. During the turbulence and chaos, his wheelchair caught on the door, which allowed the wind to go up and over him and shielded him from the debris. Even then, a wall collapsed on him, pinning him down for about 10 minutes until his wife could get help. But besides some insulation getting in his eye, he made it through unharmed.
"I knew God was watching over. When the storm was coming I kept praying, 'God help us all!' He heard my prayers," White said. "I've never had any doubts about God answering prayers"
White was among the first homeowners to receive aid from Samaritan's Purse in the wake of the tornado that struck the small town of Shuqualak on April 11.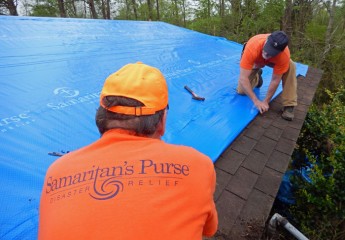 We responded within hours of the storm, sending a Disaster Relief Unit from our headquarters in North Carolina. Volunteers from several states working out of our base at Shuqualak Baptist Church are out in neighborhoods throughout Noxubee County, cleaning debris from yards and houses, removing downed trees, and tarping damaged roofs.
"As we often say, the volunteers that you see here are the most valuable resources that we have," said Brent Graybeal, the program manger with Samaritan's Purse leading the response. "We have a lot of tools that we bring in here, but if we didn't have [the volunteers], we wouldn't be able to do what we do."
In conjunction with chaplains from the Billy Graham Evangelistic Association Rapid Response Team, our teams are letting homeowners know that God is there to comfort storm victims.
Kathleen Wood drove from Madison, Miss., to volunteer as a team leader. She had been on the receiving end of storm damage before when Hurricane Lili picked up a 25-foot oak tree and landed it on her house.
"I have sympathy, empathy, and know what [these tornado victims] feel like. I've been on the receiving help too," she said. "I think when you come out here and you see this— this is the power for this to occur. Even in the storm, God's there."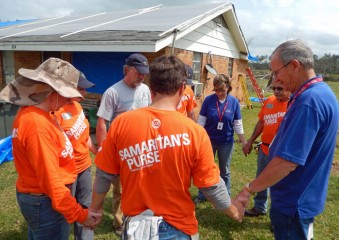 It's volunteers like Wood who make disaster relief efforts with Samaritan's Purse a reality.
"For God to put it on your heart to drop what you're doing and on a moments notice to drive a few hours or a few minutes—thank you, for answering the call. That's obedience," Graybeal said.
William "Sundown" Seabrum, 49, was one of the first homeowners we helped.
He was driving home when the storm hit, but ended up pulling into a field when the rain and heavy wind made visibility impossible. He was there when the twister went roaring past.
"I was in a state of shock," he said. "It's the first time I've ever been through this. It happened so quick."
He walked the rest of the way home. His house had sustained damage, but he was relieved to find his wife and son safe.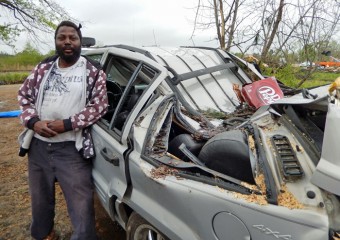 "I couldn't get any words out," he said. "I was still in a state of shock."
A Samaritan's Purse work crew worked on his damaged roof. The fact that we came to offer help in the Name of Jesus made it easy to say yes to the offer of help.
"God is first," he said. "I truly respect His blessings. He created it. He made it. He can recreate. This is God's business."
The storm that hit eastern Mississippi was part of a strong system that hit the Midwest with ice and snow and then spawned tornadoes and brought strong winds and hail throughout the South. The twister that struck Shuqualak, a town of about 500, caused multiple injuries, severe damage to buildings, and power outages. One person died in Liberty, Miss.
Please pray for those who are recovering from this tornado and for our staff and volunteers as they bring aid and comfort in the Name of Jesus Christ.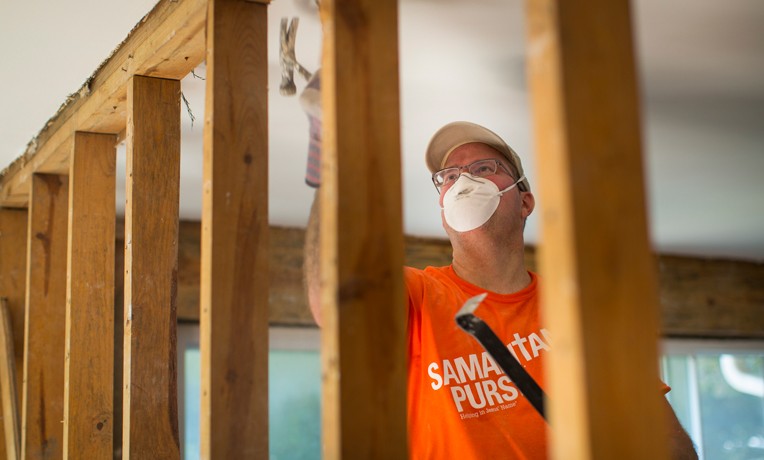 Ayuda para desastres en EE. UU
Samaritan's Purse moviliza y equipa a miles de voluntarios cada año para ayudar a las víctimas de emergencias dentro de EE. UU. que han sufrido por fuegos forestales, inundaciones, tornados, huracanes y otros desastres naturales. Después de los daños producidos por las grandes tormentas, usualmente nos quedamos para reconstruir casas para las personas que no tienen a dónde más acudir por ayuda.
---
Ayuda para desastres en EE. UU.