Samaritan's Purse partners with local pastors to host a public crusade in Kenya for the first time in a decade
Crusades for Jesus Christ have been held in Bala*, Kenya, but not since 2003. The last time the Gospel was shared publically, Muslims in the area rioted by burning down five local churches. The backlash was widespread, and the government responded by forcing all religious groups to refrain from conducting open-air meetings.
Donar
But that didn't stop local pastors from remaining committed to proclaiming the Good News of Jesus Christ.
After the riots, religious leaders united together by forming the Pastors' Fellowship. For many years, they met regularly and prayed for each other and the region. Last January, Samaritan's Purse taught them how to compassionately and effectively evangelize in a predominantly Muslim area.
The training energized the Pastors' Fellowship. They held frequent meetings and rallies to reach the hearts of hurting people with the Gospel in their communities.
Finally, a decade later, the Pastors' Fellowship felt confident that the time was right to hold a public gathering in the Name of Jesus Christ. And together with Samaritan's Purse, they hosted a three-day crusade in Bala.
"I tell you, it was one of the most wonderful experiences I have ever had since I began preaching," said Franklin Kafwani, Samaritan's Purse ministry coordinator, who was one of the featured speakers. "God gave us favor on that day to testify that He still loves the people of Bala, no matter what the challenges are."
As soon as the music started playing, people flocked to see what was happening. Young girls dressed in traditional Muslim religious gowns known as Buibui, children, men, and women all moved in for a closer look at a type of gathering many had never seen before. Others stood outside their houses, hindered by Muslim law from joining the celebration of God's amazing love.
After hours of praise and worship, pastors shared how the power of salvation on the cross transforms lives. Ten years ago, the Good News of Jesus Christ caused riots. But this time, people were stirred in a positive way.
"I have been listening to you since you started, and truly you have spoken the truth of God in my heart," said an elderly Muslim man. "I would love to hear more."
The crusade and revival also strengthened the faith of believers.
"We thank Samaritan's Purse for the revival in our area," said one woman. "We see more youth being encouraged and more being done through them. We need Samaritan's Purse more than ever."
"Thanks for the Word of God through mighty men of God you send to us," another man said. "Please come again. We love you with Christ's love. God bless you."
At the end of the evening many people were delivered and healed by God with 14 people choosing to follow Him.
The Pastors' Fellowship in Bala organized the crusade and revival, an event originally planned to reach young people. But God used this opportunity—a decade in the making—to speak into the hearts of people of all ages.
"For the past 10 years we have never had a crusade, and for the past 12 years we have never experienced a powerful revival like we had with Samaritan's Purse," said one pastor. "We appreciate the work you do to support all of the churches. God bless you." 
*Bala is a pseudonym to protect the pastors who are serving in this region of Kenya, which is sensitive to Christians sharing the Gospel.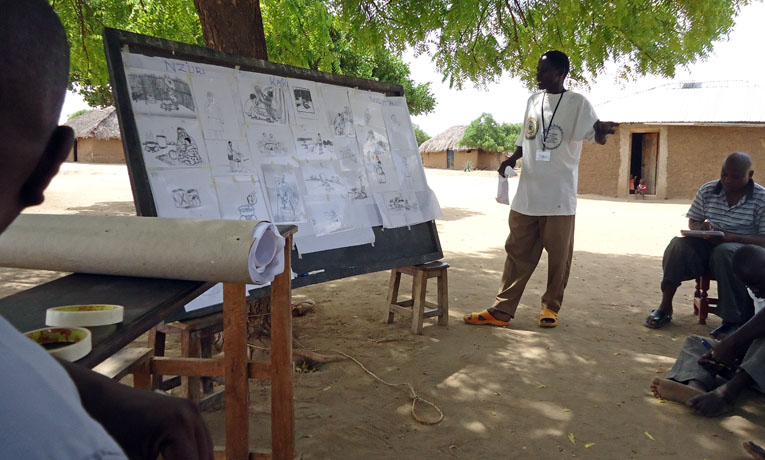 Proyectos en Kenia
Samaritan's Purse está haciendo la diferencia en las vidas de las personas de Kenia al trabajar junto con ellos en proyectos de agricultura, animal y silvicultura en todo el país. También tenemos una variedad de proyectos enfocados en proveer agua potable y segura para beber. Desde 1978, hemos estado enviando doctores a Kenia por medio de World Medical Mission, apoyando al menos dos docenas de hospitales que han ayudado a decenas de miles de personas a encontrar una nueva vida en Jesucristo. Ya sea que estemos en las granjas o en una sala de operaciones, estamos sirviendo en el nombre de Jesús, demostrando Su compasión y declarando la esperanza del Evangelio
---
Proyectos en Kenia 013597