A Samaritan's Purse livelihood project lifts financial burdens from impoverished families in the slums of the Philippines.
Entrenamiento vocacional
013714
Florencia Rivera is well acquainted with hardship.
Florencia is a seamstress in the Philippines who creates beautiful and practical items such as curtains, beddings, and clothing. But a lack of financial opportunities in her home province in southern Luzon forced Florencia, her husband, and their three children to move to the capital of Manila and into the sprawling Tondo slums.
Florencia, 58, made a living by offering sewing services from her home while her husband drove a public utility vehicle. They also opened a small neighborhood store from their home.
Sadly, their son became addicted to drugs and, in order to sustain his addiction, he stole money from the family's store and even sold their household appliances. Unable to recover the lost capital and facing huge debts, Florencia reluctantly closed the store.
Florencia continually prayed for her son and, by God's grace, he eventually overcame his drug dependency.
But the family had little time to celebrate their son's recovery before they were faced with more challenges. COVID-19 swept through the Philippines and dealt most everyone, including Florencia and her family, a devastating economic blow. Due to movement restrictions and physical distancing protocols, the government prohibited the operation of public utility vehicles—and Florencia's husband lost his job.
Demands for Florencia's sewing services also dropped as uncertainties caused by the pandemic necessitated that people prioritize food and other essential commodities over curtains and beddings.
Meeting Needs During a Pandemic
Reprieve finally came when Florencia learned that Samaritan's Purse was enlisting seamstresses in the community for a special project. "The Lord Jesus has answered my prayer again," she said.
As an experienced seamstress, Florencia was appointed as a group leader for one of 11 community enterprise groups that would produce face masks through a Samaritan's Purse buyback program. The face masks are included in a Samaritan's Purse virus prevention and hygiene kit distributed among vulnerable communities.
Florencia and her fellow group leaders learned how to make face masks that complied with health standards. They were then assigned to form a group of 10 people each and to train the members in the same way that they as leaders were trained. Each group received a sewing machine, fabric, thread, and other sewing materials as a start-up production kit.
Florencia's group started immediately producing face masks after receiving their starter kit. As their earnings grew from the sale of their finished products, the members became more inspired and worked even harder. Most of them earned enough money to enable them to invest in other income-generating activities such as selling seafood.
The group has saved more than $200, and they're reserving it to purchase more fabric and thread.
Florencia said the income-generating opportunity that Samaritan's Purse provided is not only helping them survive the pandemic, but also making it easier to recover from the economic challenges caused by catastrophic typhoons late last year.
"I didn't think of producing a washable face mask because I did not know how to make them. More importantly, I did not have the capital to start a business," Florencia said. "That's why I am thankful to Samaritan's Purse for the new skill that we learned and the chance to earn a living."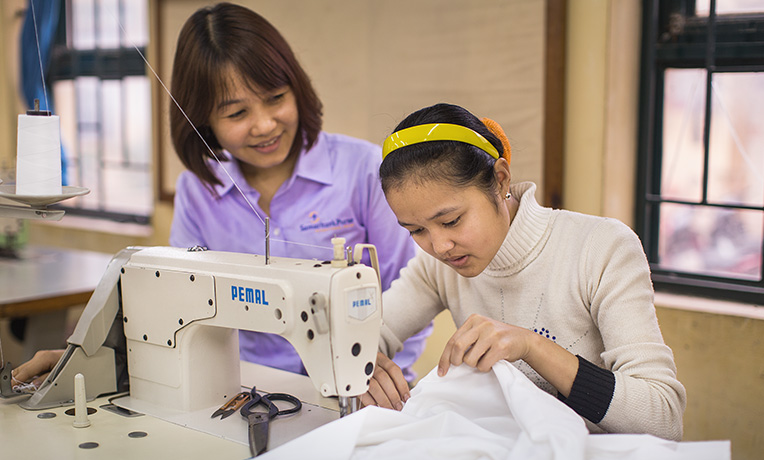 Entrenamiento vocacional
Jesús compartió la parábola de unas personas que no tenían empleo pero pasaron un día de trabajo en los viñedos. Sin importar cuándo fueron contratados, el viñero les prometió que cada uno recibiría "lo que sea justo" como paga (Mateo 20:4). Al final del día, él los premió a todos por igual. En nuestros entrenamientos vocacionales en todo el mundo, Samaritan's Purse trabaja con personas que posiblemente no sean las primeras en ser contratadas, pero cuando les damos entrenamiento y una oportunidad, son productivos, respetados y autosuficientes. Adiestramos viudas, padres solteros y otros con los conocimientos que necesitan para hacer su trabajo o abrir su propio negocio. Los participantes aprenden a desarrollar sus habilidades para el comercio mientras trabajan para la gloria de Dios. Con $100 podemos entrenar y equipar a una persona en costura, carpintería, servicios de alimentos u otro medio de sustento productivo.
---
Proyectos vocacionales 013714
Donación sugerida: $100 | Comparte el costo: $12