Runners for Team Samaritan's Purse raced in Atlanta to support clean water projects in Africa
Thirsty runners at the Publix Georgia Marathon on Sunday had 19 chances to drink clean water from volunteers holding out cups along the course.
"We could never run without that water, without refueling," Joel Troutt said.
He and 32 other members of Team Samaritan's Purse, ages 13-67, completed either the marathon, half-marathon, or 5k race. They ran, because there are families in Africa that don't have the same access to clean, safe water.
COME RUN WITH US: Learn more about Team Samaritan's Purse.
"It makes you think about people in these other countries," Joel said. "They can't just simply refuel."
Joel ran the first seven miles of the half-marathon beside his wife, Joi. Then the course split, and she continued to finish the full marathon for the second year in a row.
Halfway through last year's race on this notoriously tough course, Joi felt miserable and thought she wouldn't be able to continue.
"I had gone way too hard, too fast, and I still had so many more hills to go," Joi said.
But she pictured the faces of the people in Niger without clean water, and she kept going.
"I remember thinking that this is four hours out of my life, and these people walk so far, barefoot," she said. "Children walk for water. I can finish this race."
Athletes of all ages and abilities run, walk, or cycle in events year-round to support Samaritan's Purse programs. This group is collectively called Team SP, and the Publix Georgia Marathon is their pinnacle event.
In Atlanta this year, Team SP runners raised $13,000 to bring clean water to African villages where people trek for hours in scorching temperatures to dirty water points. Most villagers could hardly fathom someone handing them even one cup of clean water along their journey, and many have never heard about the living water of Christ.
"It's about raising money for people so that they can not only get clean water, but that some can hear about Jesus," Joi said.
Joi and Joel, parents of four, know that it might be easier on their schedule to just make a financial gift, but they are committed to the race.
"It's different when you're putting in the time and effort and saying, 'This means a lot to me.' We want to give everything we have to it," Joel said.
Joi added, "There are people that can't run. We can. So let's do it for Him."
Reaching the World through Running
Rachel Redlien sees running for Team SP as her own mission trip.
"I personally can't go to Africa, but this is a way for me to go and for others to be a part of that too," she said.
She ran a marathon in December and signed up for the full in Atlanta as her first race with Team SP, but a knee injury forced her to switch to the half.
"The Lord really showed me so much through my injury, that even when I'm hurting, it's really an opportunity to pray for the people that I'm running for," she said. "I don't know what it's like to walk for hours to get clean water, and I'm sure it's painful for them at times. So my temporary little pain just serves as a reminder to pray for them, and that's been a blessing for me as well."
Rachel also shared her advice for those who are hesitant to join Team SP because they don't have much running experience.
"Start with a 5k," she said. "There are lots of fun runs you can do for Samaritan's Purse. And find someone to run with or to train with. If you don't think you can do it, sign up so you're committed, and go for it. And watch the Lord work in ways that you can't even imagine."
Training With a Purpose
Pastor Neal Reedy was 51 when he began training for his first half-marathon four years ago. His brother-in-law saw someone wearing a Team SP jersey on a Samaritan's Purse newsletter and decided they should sign up.
"It was on a Sunday morning, and by Sunday night we had decided to come to Atlanta," he said. "At the time, I was terrified. I could only run about a tenth of a mile."
Pastor Reedy completed the half-marathon on Sunday for the third year in a row, along with a group from his church, including his brother-in-law and his son, Zach.
"We've grown to love training for it," Zach said. "It's so inspiring to be able to train with a purpose, and it's not all about running for my own benefit. It's running to raise money for the wells."
The Reedys live outside Pittsburgh in "a little river town," where they log miles in sub-zero temperatures on icy trails.
"It's almost like a form of worship while I'm running," Zach said. "Even training is just giving your life to God, saying, 'Do whatever You can do through this temporary pain—everything I have, You have.'"
He admits getting up early to run with their group on Saturday mornings can be tough. In fact, he says running in itself probably wouldn't be enough to motivate him. But Zach keeps his focus on the long-term goal.
"In 30 or 40 years when this is far behind me, my great-grandchildren or grandchildren are not going to really care that I ran a half-marathon or marathon. But hopefully when we get to heaven there will be people there because we drilled wells over in Africa, and that's going to make a difference."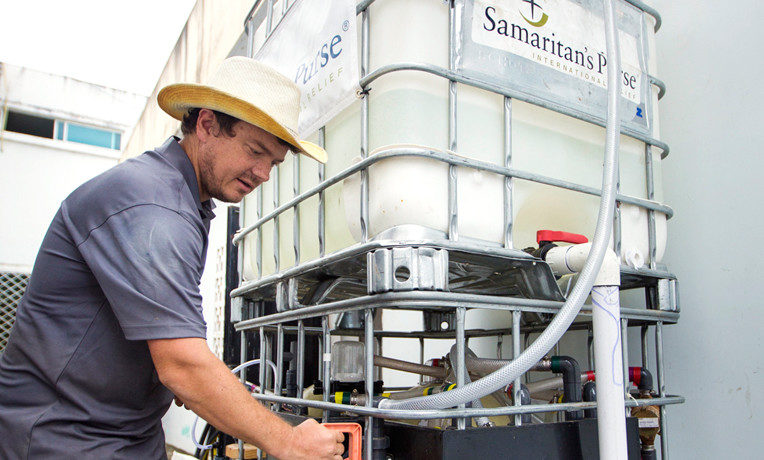 Agua potable
Tu regalo de agua potable podrá proveer tanques, filtros, letrinas y entrenamientos de higiene, así como otras medidas esenciales para proteger los recursos naturales de agua y prevenir la difusión de enfermedades. También buscamos satisfacer necesidades físicas y espirituales en el nombre de Jesús.
---
Proyectos de agua potable 013659
Donación sugerida: $75