The Lord continues to do marvelous things in military marriages through Operation Heal Our Patriots.
Bendice el matrimonio de una pareja militar
013960
We were transformed from strangers to family—that's how veteran soldier Mike Waterworth described this year's second week of Operation Heal Our Patriots at Samaritan Lodge Alaska.
To him, the week's group of 10 military couples—none of whom had ever met before arriving in Alaska—had become like a tight-knit family during their time focused on marriage enrichment. These strong bonds formed as the group together hiked, fished, and worked through an intense, Biblically-based course designed to draw husbands and wives closer to God and each other.
Jennifer Sheler, wife of Army Staff Sergeant David Sheler, appreciated the week in Alaska as a time to discover a strong, Christian support network, which can sometimes be elusive to find back home.
"Coming here I felt pretty isolated," she said, "[but] I don't feel so isolated anymore."
Yet even more important than the ties created between couples was the growth experienced by husbands and wives in their own marriages. Marine Onix Polanco said he was essentially a stranger to his wife before attending Operation Heal Our Patriots.
"I didn't know who my wife was until [coming] here. And she probably didn't know me," he said.
But, he got to know her and more important he came to know Jesus Christ in Alaska. That became the ultimate highlight of the week as not only Onix but several participants went from being strangers to God to becoming sons or daughters of the King. As Ephesians 2:19 states: "Now, therefore, you are no longer strangers and foreigners, but fellow citizens with the saints and members of the household of God."
Onix recognized that God's family was "a family that I want to be a part of." His wife Chelsea, already a strong believer before coming to Samaritan Lodge, had been praying for him and their marriage for years.
"This trip has really opened my eyes to see who my husband is and what he really needs. First, he needed God and that has changed him tremendously. He's just a new person," she said. "We're having so much fun together. They say your marriage changes when both of you have accepted Christ and that couldn't be more true. It's incredible."
Onix was among 10 people who were baptized in Lake Clark on Friday, June 9.
Finding New Life in Christ
Marine Sergeant Keith Turnbow and his wife Maggy were also baptized.
Keith grew up in a very difficult family situation and never knew God. He served from 2004-2014 in the Marines, and did two combat tours in Iraq.
During his first tour he was injured in a major IED blast, and still deals with traumatic brain injury and injuries to other areas including his hip, knee, and shoulder. He also struggles with post-traumatic stress disorder, which manifests in depression, anxiety, and self-isolation.
He tried dealing with his problems in different ways but none brought relief.
"I've tried everything else to make my life better—I've tried the drugs, I've tried the alcohol, I've tried the sins—and I was still in the same situation," Keith said. So, he listened to what he heard from our chaplains at Samaritan Lodge and decided to give his life to Jesus Christ. "I was born again. I gave my heart and soul to the Lord. Now it's time to get educated and spread His Word."
For his wife Maggy, baptized alongside him, the week in Alaska began a rededication of her life to God. "I'm surrendering my life to the Lord," she said.
As she and her husband started growing together toward Christ, she found hope again after going through a long period with little of it.
"We were just both losing hope in ourselves and each other," she said. "Coming here has revived us individually and as a couple."
Sergeant Freddy Friederich, who did a combat deployment to Iraq during his six years in the Army, and his wife Kimber experienced a similar breakthrough. Freddy gave his life to Christ, Kimber rededicated hers to Him, and they were both baptized. They also participated in a public marriage rededication ceremony along with four other couples.
"I just want to say I consider all of you family now," Freddy told a gathered group of couples and staff on Friday. "I appreciate it, and helping me find my way to God."
Kimber, moved by her husband's simple but profound statement, followed up: "That is bringing me to tears, hearing those words come out of my husband's mouth for the first time since I've ever known him."
Tools to Get Unstuck
Two of those five couples who rededicated their marriages in Alaska last week were already born-again Christians before arriving: Marine Corporal Cody and Alexis Jones and Army Sergeant First Class Gabe and Celia Salas. While they knew the Lord, they needed a strengthening of their relationship, and they found it.
"This [Operation Heal Our Patriots] has a lot of benefit. This is going to make our life at home easier," Cody said. He lost his left leg below the knee and half of his right foot as the result of an IED attack in Afghanistan in December 2012.
"The quality time has been amazing for our marriage," Alexis added. "We were stuck in a rut, just arguing, bickering, and I wanted to do OHOP to find a way of reestablishing our marriage."
Gabe Salas served twice in Iraq and once in Afghanistan during his 10-year military career. He wrestles with both post-traumatic stress disorder and traumatic brain injury. Before coming to Samaritan Lodge, he and Celia too felt stuck. But the week of marriage enrichment gave them a new trail to follow.
"We came here recognizing we had some issues and we knew what the issues were, but we didn't know how to move forward to fix the issues or attempt to work on them," Celia said. "The classes are giving us the [communication] tools that we need to move forward.
"The classes are Christian-based, and they teach us how to make the tools work and incorporate Christ," she said. "It's been a blessing."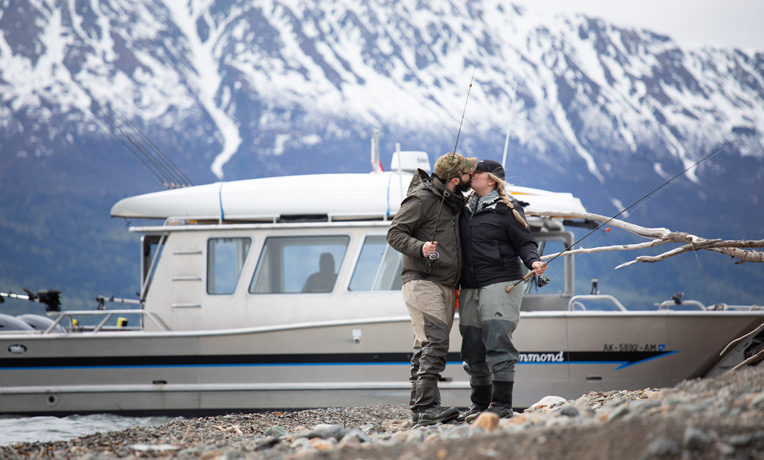 Bendice el matrimonio de una pareja militar
Operation Heal Our Patrios ayuda a las parejas militares a construir una sólida fundación espiritual durante una semana basada en talleres bíblicos, actividades al aire libre para reconstruir relaciones y atención individual, por medio de nuestros capellanes retirados. Ofrecemos todo esto sin costo alguno para estos héroes americanos como una muestra de nuestra gratitud por su servicio y sacrificio. Tu donación nos ayudará a cubrir los costos, inclusive el transporte, hospedaje, actividades y cuidados a largo plazo de las instalaciones, para poder ayudarlos a encontrar esperanza en el Señor.
---
Operation Heal Our Patriots 013960
Donación sugerida: $60