Two years in Africa taught a World Medical Mission doctor to be prepared at any time for a medical emergency.
Dr. Shannon Potter figured keeping her young son and daughter entertained for 10 hours would be the biggest challenge she faced on her June 27 flight from West Africa to the United States.
Shannon and her husband, Ryan, and their two children, 3-year-old Sydney and 18-month-old Zachary, were looking forward to a six-week furlough with family and friends. They were en route to New Jersey with plans to visit Missouri and other home bases.
An obstetrician/gynecologist, Potter had been serving at hospitales misioneros in Togo and the Democratic Republic of Congo since 2015 through World Medical Mission's two-year Programa de post-residencia.
When it comes to medical challenges, the physician thought she had seen and done it all in Africa. But God had one more special assignment for her before she reached American soil.
Always On Call
Less than halfway into the flight to New Jersey, the crew asked for medical assistance at the back of the plane.
Potter found a Middle Eastern woman adorned in a traditional abaya, sitting in a jump seat that flight attendants use for takeoffs and landings. The pained look on her face, with a glint of hope and expectation, was one that Potter had seen many times. The woman was in labor.
"I was feeling right at home," Potter wrote on her blog page. "I've spent the past two years overseas, working in limited-resource settings, usually with a translator and definitely without epidurals or many IVs."
This was not the first time Potter has been called upon to assist a woman in labor in an unconventional place.
"Not one, but two babies were born in my apartment building in France, both requiring my help. At least on the plane, we had plenty of blankets and gloves," she wrote.
Potter confirmed to the flight attendants that the woman's water had broken and she was already dilating. For the time being the only thing they could do was time her contractions and make her as comfortable as possible. With six hours of flight time to go, it was possible the woman could make it until they landed, but Potter advised the flight attendants to be prepared for a delivery in the air.
They moved the woman from the galley into the back two rows of the plane. Her husband stayed by her side, faithfully recording her contractions. While Potter monitored her, the couple's daughter helped look after Zachary.
With under three hours to go, the woman's labor intensified. She was moved back to the galley for more privacy and space to move around. Since no epidurals were available, Potter coached her through natural techniques to tolerate the pain.
"One or the other of my kids occasionally escaped from my husband to see what I was doing at the back of the plane. My daughter, who has seen a cesarean section from the window of an operating room, gently asked me, 'Are you going to break her?'" Potter recalled. "I reassured her that I would not need to, but that the baby would be here soon."
The woman's delivery was nearing with just 30 minutes to go in the air. However, the flight attendant explained that, even with an emergency priority landing, they would have a 40-minute taxi before the ambulance could be ready to take her to a hospital.
On her blog, Potter described the series of events that followed:
I looked back at my laboring friend, knowing she would not be able to suppress her urge to push for over an hour. I said, "Well, when you feel like you need to push, go for it." The flight attendant holding up an extra blanket for increased privacy said in disbelief, "So this is happening. OK. Well, should we ask the pilots to hold the landing?"
We had been rapidly descending, and our ears were popping as we laid out extra blankets. I said, "No, we just need to get there as soon as possible. Let's land!"
I told her husband, "Tell her to trust God that He will help her push this baby out." And with the next contraction, the head delivered, then the body, and we had a screaming, beautiful newborn baby getting wrapped in Ethiopian Airlines blankets.
The mother clung to her newborn daughter during the landing. To shield the woman from moving, her husband positioned himself at her side and Potter sat on the other side. Members of the crew later had pictures taken with the happy family as the plane taxied toward a waiting ambulance.
It wasn't until the paramedics and police escorted the family through the plane that many passengers became aware a baby had just been born. The mother went first in a wheelchair, then the older daughter and the father carrying his baby girl, with Potter following behind.
"When he [the beaming father] reached the row where my husband and kids sat without me for the last six hours, he turned to my daughter and bent down to show her the new baby," Potter continued in her blog. "Until that moment, there had been little interest in the pile of airline blankets he was holding, but all eyes turned to the bundle."
The flight attendant pointed to Potter and explained, "She just delivered a baby. She's a hero." For Potter, it was "all in a day's work." She pointed back to the exultant mother, who had displayed calmness and courage throughout the delivery.
A Grateful Family
Potter has stayed in touch with the family. After reading her blog, they posted a message of their own:
"Going into labor, let alone giving birth in a plane, is a horrifying ordeal, but you managed to make it one of the most enjoyable and memorable moments of my life," the mother commented. "I will forever be indebted to you and will always have a special place for you in my heart.
"I pray to God we meet again in the future and I would love for you to see the bundle of joy you helped deliver," she added. "May God bless you and your family with whatever you set your hearts out to do. You are a one-of-a-kind amazing person and doctor and no matter how much I say thank you it would never be enough."
The Potters are returning to Africa in August, this time to Kenya where Ryan has accepted a teaching position at Rift Valley Academy.
Meanwhile, Shannon will be a full-time mom for several months before resuming her medical mission work in 2018. Her plans include serving a short stint on the MercyShip off the coast of Cameroon. Beyond that, their family will wait and see where the Lord leads them next.
Reflecting on the memorable "air delivery," Potter knows it was no coincidence that God placed her on that specific June flight from Togo to meet a medical need and share the love of Christ. The Potters had originally planned to fly to the U.S. in mid-July.
"I am still awestruck every time I get a chance to see how God orchestrates the individual decisions and events that are beyond our control," she said. "Our Good Father has it in His hands. He is not surprised."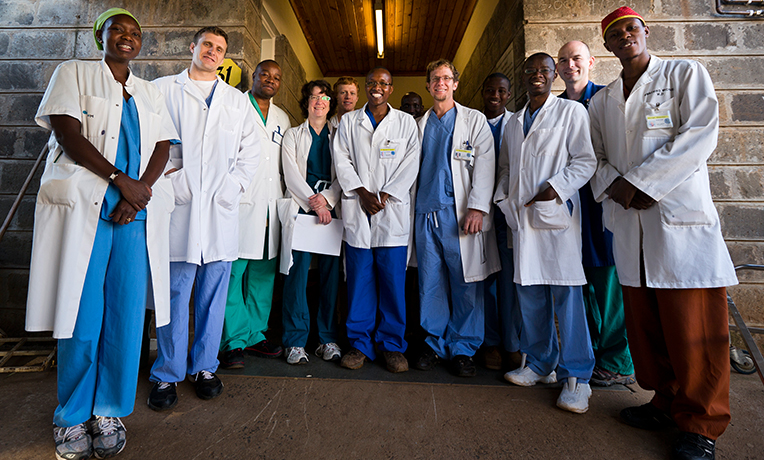 Programa de post-residencia
El programa de post-residencia World Medical Mission es un programa completamente financiado por dos años para doctores cristianos y sus familias, que han recibido un llamado para las misiones médicas. Inmediatamente después de terminar su residencia, los doctores son enviados a un hospital misionero para servir con su especialidad, junto a misioneros médicos experimentados. Nosotros proveemos ayuda logística y financiera a estos hombres y mujeres jóvenes que atienden a los pacientes y les comparten el amor de Jesucristo.
---
Programa Post-Residencia 013765