Thankful hearts gather in Minnesota to celebrate how God has transformed 1,000 lives through Children's Heart Project
The Children's Heart Project family from across the U.S. joined together at Mayo Clinic in Rochester, Minn., on Thursday to give God the glory for providing life-saving surgery to 1,000 boys and girls.
Help Provide Heart Surgery For A Child
The celebration included three very special guests—Nomin, Magnai, and Bataa, three children from Mongolia whose heart defects were repaired earlier this month in Rochester. Nomin is the 1,000th child to receive surgery.
"It's a wonderful time to celebrate with these three beautiful children and to see what God has done with this program since 1997," said Ken Isaacs, Vice President of Programs and Government Relations at Samaritan's Purse.
IMAGES OF RENEWAL: See the faces of some of the boys and girls whose lives have been transformed by Children's Heart Project
HEALING FOR 1,000 HEARTS: Nomin traveled from her home in Mongolia to Minnesota to become the 1,000th child to receive surgery through Children's Heart Project
Also speaking were Dr. Allison Cabalka, a pediatric cardiologist and Associate Professor of Pediatrics at Mayo Clinic who has screened for Children's Heart Project on many occasions; Dr. Phil Fischer, a professor of pediatrics and Chair for Global Child Health at Mayo Clinic who has hosted many Children's Heart Project patients in his home; Dr. Joseph Dearani, the Chair of the Division of Cardiovascular Surgery at Mayo Clinic who has operated on the majority of the Children's Heart Project children who have come there; and Cissie Graham Lynch, who has worked alongside her father, Franklin Graham, for many years and has a passion for programs that help women and children.
Throughout the evening, the speakers emphasized that Children's Heart Project is a family and that it takes everyone from the surgeons to the host families to help the children receive the care they need.
"It's not a job of one person," Dr. Fischer said. "It's a project. It takes a group effort. It takes families. It takes a team."
Ken Isaacs reflected on how the program began in 1997. Samaritan's Purse was working in Bosnia at a bombed-out hospital when a staff member met a young boy who would die without heart surgery. The hospital no longer had the capacity to provide the surgery, so we worked to get the boy to the U.S. Thus the Children's Heart Project was born.
"I see how God has used this, how He has brought people on board, and there's no way that any people could have planned to do 1,000 surgeries," Isaacs said.
Children's Heart Project Director Cindy Bonsall introduced Nomin, the 1,000th child to receive heart surgery. Magnai and Bataa joined her on stage. It was a time to see what God has done and what He will continue to do through the project.
The project isn't just about healing hearts physically. While in North America, the families stay with a host family and attend church. Christian interpreters travel with them and offer Bible studies and a chance to pray together.
Many mothers and children receive Christ during their time in North America and return home to be ambassadors for Him.
Nomin's mother is already a Christian, but her faith has grown stronger during her time in the U.S. She said she hopes her husband will see her faith and want to become a Christian.
Bataa's mother was also a believer who has enjoyed spending time with other Christians, but Magnai's aunt, who accompanied him as his guardian, was not. Around the time of his surgery, she did a Bible study with the interpreter and said she would like to think about making a decision for Christ. A few days later, she said she wanted to follow Him.
"I get to tell my daughter that she's the daughter of a King, that God loved her enough that He sent His one and only son to die on the cross for her, that God loves her," Graham said. "And I look at many of these moms and fathers who've never had the opportunity to tell their child that because many of them have never heard it themselves, and to me that's the most important part. We're fighting for physical healing in Children's Heart Project but most importantly spiritual healing."
Magnai's aunt is one of many Mongolians who have made that decision. Bonsall told a story of a young girl named Amaraa who received surgery through the project. After her surgery, her mother went back to her village and said that God had healed her daughter.
They helped start a church that now has 40 members. Amaraa is a Sunday school teacher at the church and also helps with heart camps, a place where Children's Heart Project patients can come together for fellowship and discipleship.
Through children like Amaraa becoming disciples for Christ, countless hearts in many countries have been affected.
"We're not just celebrating a thousand hearts," Cissie Graham Lynch said. "We would never be able to calculate how many hearts we're really celebrating tonight."
The event marked a milestone while looking toward the future. God was praised for what He has done through the 1,000 children already helped, and for many more who will receive life-saving surgery and the truth of the Gospel.
"It's a celebration of the 1,000th, but it's really not about the 1,000th," Dr. Dearani said. "It's about the first one, it's about the 500th one, the 1000th one and beyond and beyond."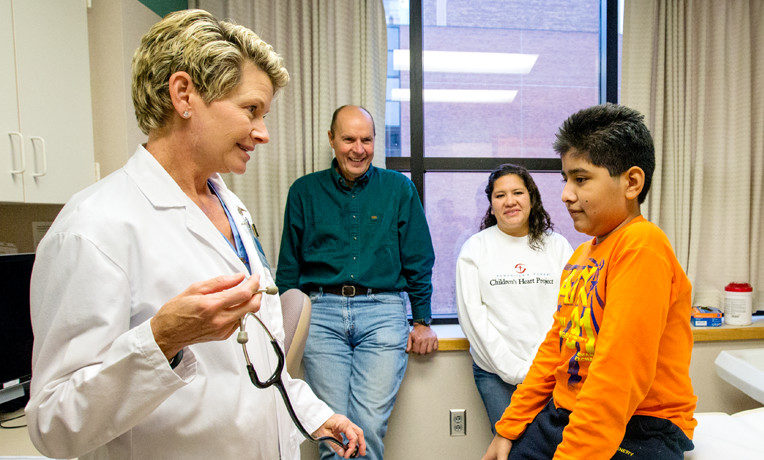 Salva la vida de un niño
Uno de cada 100 bebés tiene un defecto del corazón que los cirujanos pueden correr como algo rutinario. Desafortunadamente, mucho de estos niños han nacido en lugares pobres o muy remotos donde sus familias no tienen acceso a los servicios cardíacos que urgentemente necesitan. Por medio del programa Children's Heart Project, Samaritan's Purse transporta a niños y niñas de países como Bolivia, Mongolia y Uganda hacia hospitales en Estados Unidos. identifica niños con condiciones de corazón de vida o muerte que viven en países donde no tienen la tecnología y el entrenamiento para su enfermedad. El programa los conecta con hospitales y cirujanos de EE.UU. que donan su tiempo y servicios. Los doctores, los hospitales y las familias e iglesias que reciben a estos niños donan su tiempo y servicios, pero los costos de los vuelos aéreos son los gastos mayores usualmente de $2.200 por persona en un vuelo internacional. Con $50 de donación, puedes compartir el costo y ofrecer una cirugía que salvará la vida de alguien y la inigualable esperanza de Jesucristo "el camino, la verdad y la vida" (Juan 14:6). "el camino, la verdad y la vida". (Juan 14:6)
---
Programa Children's Heart Project 013687
Donación sugerida: $2.200 / Comparte el costo: $50