In 1997, a 10-year-old boy named Majo and a 12-year-old girl named Nasiha were flown from Bosnia to South Carolina to repair their heart defects. They were the first to receive surgery through Children's Heart Project. On March 5 this year, a 4-year-old girl from Mongolia named Nomin became the 1,000 child to receive healing through the Samaritan's Purse ministry.
Over the past 17 years, between Majo and Nasiha and Nomin, hundreds of children have experienced physical healing through the project. They and their families have experienced the love of Christ and many have put their faith and trust in Him.
The boys and girls pictured below are just a few of those with renewed hearts and lives, changed for now and for eternity.
4-year-old Nomin (left) is the 1,000th child to receive surgery through Children's Heart Project. Magnai (right) also traveled from Mongolia to Minnesota for an operation.
Joylove has lived with her grandmother, Mary, since she was 3 months old. The two live in a house adjoining the school where Mary works. Joylove had surgery in Canada when she was 4. She is now 9 years old and can run and play like other children her age.
Patricia took her 2-month-old daughter, Briana, to the hospital when she began turning blue. The doctor told Patricia that Briana had a congenital heart defect that could only be repaired through open-heart surgery. In Bolivia, the surgery would be difficult to find and too expensive. Patricia began looking for other options and discovered Children's Heart Project. Samaritan's Purse brought Briana to the U.S. for surgery, and she came through successfully.
When Byamba successfully recovered from surgery, his mother said Children's Heart Project had given her a huge gift. The interpreter told her the gift was from God, and she made a decision to give her life to Him.
Tugso's mother was thrilled when her son was selected for surgery, but her shamanist he told her Tugso would die if he went to U.S. She refused the surgery, but the shamanist couldn't heal him. Two years later, his mother agreed to let him come to North America. When she saw his successful recovery, she realized Jesus Christ is more powerful than a shaman, and she accepted Him as her Savior.
Reynaldo looked for answers in natural remedies when his son, Emibal, was diagnosed with two holes in his heart. When nothing worked, he agreed to let Emibal come to the U.S. Reynaldo was at home in Bolivia during Emibal's surgery. He prayed, and felt comforted by God and understood he could have a relationship with Christ. Later that day, he found out the operation was successful.
"My daughter's surgery has taught me more than ever before to trust in God for all things, especially those that seem impossible to man," said Rosemary, Jemimah's mother, after her daughter had successful surgery in the U.S.
Otga accepted Christ as savior while in the U.S. "He had the surgery and he got saved, and now he is excited to tell others about Jesus," Otga's translator said. When they returned home, Otga and his mother were able to lead 15 family members to faith. They started a nomadic church that has 30 members. Now the 21-year-old works at Children's Heart Project's Heart Camp in Mongolia and is finally learning to read so that he can learn more about God's Word.
Toggie's family spent the summers in Mongolia living in countryside and taking care of a heard of 350 animals. In the winter, they moved to the city. When they found out that their precious daughter was sick, they knew they wouldn't have enough money to send her out of the country for surgery. When they found Children's Heart Project, they knew it was their best hope.
Toggie was just 3 when she had her operation. She now attends Heart Camp with other former Children's Heart Project patients in Mongolia.
In November 2011, Children's Heart Project flew 13-year-old Jose from Bolivia to Michigan for surgery. During a Bible study with the host family, Jose and his grandmother said they would like to receive Jesus Christ as their Savior. "Jesus healed my heart and gave me health," Jose said. "I thank Him for the biggest gift, which is His gift of salvation. Now I am a child of God." Jose was also excited because after surgery, he was able play soccer like other children.
Catherine returned home to Uganda with a healthy heart after her surgery in 2009.
Bajka and Choijka were 16 years old when Children's Heart Project brought them from Mongolia to Texas to receive life-saving surgery. While there, they were able to meet Garrett Ferguson, the 10-year-old boy who had raised the money for the two boys to travel for their surgeries. While in the U.S., both boys and their mothers accepted Christ as their Savior and were baptized on Palm Sunday.
At 7 years old, Jemimah received life-saving surgery in the United States. The now 13-year-old can ride her bicycle and even climb trees, things she was never able to do when she suffered from her heart defect.
After Oscar's surgery, the host church learned of the family's poor living conditions. They committed to building a new home for the family. "How can I ever thank you all for this gift?" his mother asked. "We promise to live for Christ and to point everyone to Jesus." Oscar and his sister received Operation Christmas Child gifts a year after his surgery. He is now 20 years old.
At 16 years old, Uugna attended a medical screening where he met a doctor working with Children's Heart Project. Just after his 18th birthday, he flew to Texas for surgery. In Texas, Uugna and his mother accepted Christ. They were baptized before returning home, and Uugna became a leader at Children's Heart Project Heart Camps. In 2012, Uugna was hospitalized with pneumonia and later developed signs of heart failure. On February 14, he went to be in the everlasting arms of Jesus.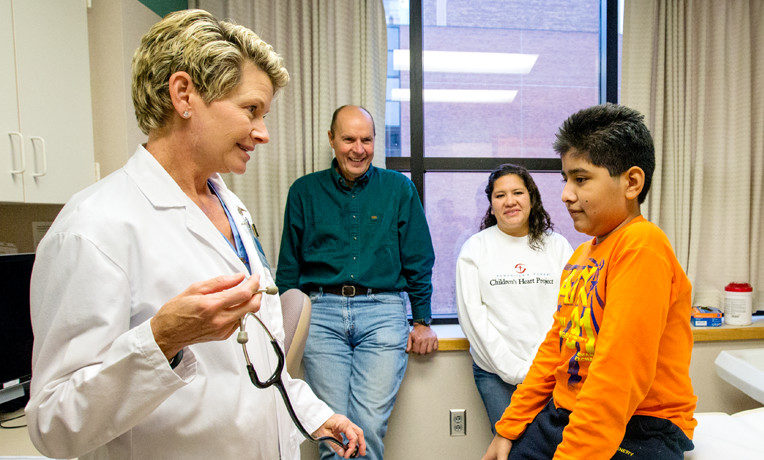 Salva la vida de un niño
Uno de cada 100 bebés tiene un defecto del corazón que los cirujanos pueden correr como algo rutinario. Desafortunadamente, mucho de estos niños han nacido en lugares pobres o muy remotos donde sus familias no tienen acceso a los servicios cardíacos que urgentemente necesitan. Por medio del programa Children's Heart Project, Samaritan's Purse transporta a niños y niñas de países como Bolivia, Mongolia y Uganda hacia hospitales en Estados Unidos. identifica niños con condiciones de corazón de vida o muerte que viven en países donde no tienen la tecnología y el entrenamiento para su enfermedad. El programa los conecta con hospitales y cirujanos de EE.UU. que donan su tiempo y servicios. Los doctores, los hospitales y las familias e iglesias que reciben a estos niños donan su tiempo y servicios, pero los costos de los vuelos aéreos son los gastos mayores usualmente de $2.200 por persona en un vuelo internacional. Con $50 de donación, puedes compartir el costo y ofrecer una cirugía que salvará la vida de alguien y la inigualable esperanza de Jesucristo "el camino, la verdad y la vida" (Juan 14:6). "el camino, la verdad y la vida". (Juan 14:6)
---
Programa Children's Heart Project 013687
Donación sugerida: $2.200 / Comparte el costo: $50