Maternal and child health programs are saving lives in one of Cambodia's most impoverished provinces
Her lips were chapped and stray strands of hair from her ponytail swept across her forehead. She grimaced with nearly every step, and eyes that hinted of worry and fear looked into the distance. Physical pain and the brutal Cambodian heat proved almost an unbearable combination for this 18-year-old expectant mother.
Sokny had arrived at the Samaritan's Purse community birthing center that morning and was due to give birth to her first child any day. She lay in the bed, sat up in the bed, paced back and forth outside, and finally sat down outside in a white plastic chair. Nothing eased the pain.
Despite her physical agony in those anxious hours awaiting delivery, Sokny could do her waiting at the birthing center, giving her more hope for a safe delivery than most women in Kratie Province have ever known. It's a hope that until a few years ago was all but forgotten in the remote, impoverished province hundreds of miles from a city or a hospital.
It's not uncommon for mothers in Kratie to have one or two children die because they lack access to basic obstetrics and healthcare. When mothers in Kratie's rural villages give birth at home medical, complications put them and their babies at risk.
Samaritan's Purse is helping meet the needs of mothers in Cambodia, one of the poorest nations in the world with one of the highest infant mortality rates.
During the past two years, we built seven community birthing centers in Kratie to offer women like Sokny an accessible, safe place to deliver their babies. We're also teaching mothers how to cook nutritious meals so their children do not get sick—or die—from malnutrition.
As we go throughout Kratie we go in Jesus' Name, sharing the hope of the Gospel with mothers and families.
We'd like you to meet some of the resilient, brave mothers in Kratie whose lives have been changed through Samaritan's Purse maternal and child health programs. [In Cambodia, family names come first and personal names follow.]
Mok Pheakvy
After riding more than an hour on a wooden long-tailed boat, 29-year-old Pheakvy still faces a precarious climb up a steep rocky hill to get back home. Travel from her village to our community birthing center isn't easy, but at eight months pregnant she's preparing to soon make the journey one more time.
Pheakvy learned about the center from Samaritan's Purse staff serving in her village.
"The Samaritan's Purse staff are very kind to me," she said. "They taught me about cleaning in and around my house, how to wash my hands after using the bathroom, how to cook food properly, and how to take care of a newborn," she said.
Life can be hard for this mother as she and her husband struggle to provide for their family. Her husband, like most men in her village, is a rice farmer.
Pheakvy is raising her three children in the same rural village where she grew up. "My parents live in this village and they help take care of the kids sometimes, but not very often," she said.
When Pheakvy delivers at our birthing center it will be her first time to give birth away from the village. She's given birth twice at her parents' house and once at her house.
As our staff invested time with Pheakvy's family they helped her experience another first.
"Samaritan's Purse staff told me about Jesus," she said. "I had never heard before."
When our staff shares the Gospel with mothers in Kratie it's usually their first time to hear about Jesus, as about 95 percent of the country is Buddhist.
Sor Samy
Just down the dirt path from Pheakvy lives Samy, her husband, and three children. Samy's mother lives next door and her brother and sister also live in the village. Her husband and brother are both rice farmers.
Samy, 29, met our staff a year ago during a nutrition screening in the village. When we found out her 4-year-old daughter, Sekat, was malnourished we taught Samy how to cook nutritious meals that included proteins and vegetables.
"We teach mothers to give their children three meals a day, and not just rice," said Samaritan's Purse staff Suy Dalai.
Samy's daughter can be shy at first meeting. Sekat fights back a smile and shakes her head when asked a question, her pigtails swishing back and forth.
But give her a little time and she blossoms into a child who can't hide her smile and loves to laugh and chase her siblings outside around their wood-framed, stilted house. Now, with Sekat gaining weight and becoming healthier, she can run more, play harder, and smile more often.
Samy didn't know why Sekat wasn't gaining weight. Mothers in Kratie usually think it's because of an evil spirit or another health condition; they don't connect it with malnutrition.
When Dalai visits mothers she teaches them about malnutrition, as well as good hygiene and how to take care of themselves and their babies.
Most importantly, she brings the Good News.
"When I visit I share the Gospel," Dalai said. "I want them to know Jesus."
Before Dalai came to her home Samy didn't know about Jesus, but now she believes and trusts in Him.
"Samaritan's Purse staff helped me understand that Jesus can have power over demons," she said. "I believed in Jesus because Satan's power cannot control my life. The power of Jesus Christ can cast out demons and that person can be free."
Kim Vichra
At 2:30 a.m. Vichra arrived at a Samaritan's Purse birthing center and not long after welcomed her first child into the world. Vichra, 23, and her husband came by boat to the center, which is significantly closer to her village than a hospital.
"A few women from my village have come to the center to give birth," she said. "It's safer to give birth here than at my home in the village."
It's safer because Samaritan's Purse is training staff to provide quality care. We built our community birthing centers near pre-existing rural health centers that aren't equipped for obstetric care. We train health center staff, who also staff the birthing centers, in prenatal and postnatal care.
The centers also offer simple luxuries that mothers in Vichra's village don't have such as clean water, electricity, and fans. Vichra can stay at the center overnight or for several days, which wouldn't have been possible at a hospital.
Vichra was eager to show off her newborn son as she tenderly cradled him, carefully adjusting and re-adjusting his hat and blanket. Before the community birthing centers, giving birth at a facility outside their poor village was an elusive dream for most women in Kratie. With your support, this dream has become reality for Vichra and others.
But the work is far from finished. Vichra had tied a string around her son's neck, an important cultural practice for newborns in predominately Buddhist Cambodia.
"The string is to protect from evil spirits and demons," Vichra said. "I have to protect the baby from anything bad happening to him."
Please pray that Vichra and mothers throughout Kratie will turn from the strongholds of spirit worship and Buddhism and trust Jesus with their children's future. Pray for strength for Samy and other mothers who have already turned to Christ.
Pray also that the care mothers receive through our maternal and child health programs gives them hope for the future. A future marked more by joy-filled moments than fear.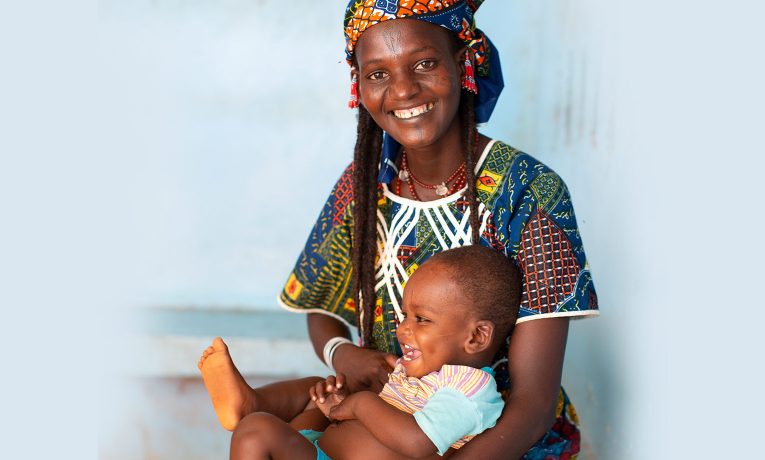 Cuida de las madres y sus bebés
Trágicamente, cientos de madres jóvenes y miles de recién nacidos mueren cada día a causa de enfermedades que se pudieron evitar. Tu donación puede ayudar a Samaritan's Purse a reducir los niveles de mortalidad en las mujeres y niños jóvenes al mejorar sus servicios de obstetricia, enseñándoles prácticas esenciales de nutrición e incrementando el acceso a servicios de salud de calidad.
---
Cuidado prenatal y de maternidad 013717
Sugerencia: $75