Army captains stationed in Augusta help out their community by volunteering with Samaritan's Purse
When retired Navy veteran William Crawford realized the majority of volunteers in his yard were actually captains in the U.S. Army, he immediately thanked them for their service. But with a handshake, they all countered, "No, sir. Thank you for yours."
Help Storm Victims in the U.S.
Nineteen captains volunteered with Samaritan's Purse in late February to help homeowners in Augusta, Georgia, affected by a severe ice storm.
HELPING IN NORTH CAROLINA: Samaritan's Purse is responding to another severe winter storm.
The group was part of a Senior Captain Career Course held at Fort Gordon in Augusta. While none of the captains are originally from the city or even the state, they all said they felt a duty to serve within the community.
"It's a long-standing Fort Gordon tradition to help out the Augusta community," said Captain Justin Hesley. "Fort Gordon and Augusta is a support system. We support them. They support us."
The team moved in unison, dragging fallen debris, teaming up to carry heavier branches, and even taking time to talk with the homeowners like William, an amputee who served in the Navy in Vietnam. They were impressed with his use of military lingo, and the group definitely shared a few laughs.
"It makes it real special [that they're military too]," William said. "They could take their time to do other stuff instead of helping people. You would never have been able to find a group of civilians who work this well together."
But the captains insisted that while they're trained to work as a team and to lead, you don't have to be "Army Strong" to be a strong volunteer.
"I'm 45 almost 46. If I can do that, anyone can," said Captain Kelly Brown. "You just need a helping heart. Half the battle is showing up. The real help is being there to listen and talk to people about their issues."
Talking with homeowners was a huge blessing to many affected by the ice storm. Diane Gray, a divorced woman who is the caretaker of her ill sister, also works at Fort Gordon primarily dealing with individual cases of young soldiers who are facing disciplinary action.
"Our soldiers do a lot of great things, but you only hear about them when they do something bad. It's a shame," she said. "I can't say how much of a blessing you've been to me."
She watched in amazement as the volunteers removed fallen branches from her power lines and removed debris in hardly any time at all. When the group presented her with the Bible afterward, she immediately burst into tears.
"The ice storm came and I was alone and I was so scared," she said. "But you came. God came through. I didn't expect people to come so soon. I told [the assessor] I understand that others had it worse and I wasn't a priority and he said, 'Everyone is a priority.'"
Volunteer team leader David Ellis, who has served with Samaritan's Purse on disaster relief efforts for more than 10 years, felt extra blessed to lead the group as a veteran himself, though he joked he wondered if the captains would be willing to take instructions from a former lieutenant.
"It was just a wonderful relationship to be with military guys and ladies who came out, and you didn't have to say 'do this' and 'do that.' They were on top of it," he said. "Whatever needed to be done, they didn't worry what rank they were. They just did it. It was a real blessing to me to see men and women, who were already serving our country, loving and serving their community."
For some of the captains, it ignited a passion to serve in a way they hadn't been able to in years. Captain Rich Molinski enjoyed the team's service project so much, he returned the following afternoon by himself to serve again with Samaritan's Purse.
"It's like putting on an old shoe. It just feels right," he said. "I really think the impact starts when we get together as a cohesive group."
Captain Melissa Grilliot is the volunteer coordinator for the group and was excited to get the team connected with Samaritan's Purse. While the captains often volunteer within their community as individuals, this was their first service project together as a class.
From helping veterans, widows of veterans, and even those like Diane who currently work on base, Melissa said it warmed her heart to know their group could help in Jesus' Name.
"It's important to give back to the community and not just with our deployments overseas, but out here in the area," she said. "And you want to reach people with God while also doing a service for them. It just warms my heart… It brought our class closer."
Visit our volunteer network to see current opportunities to serve, including with our winter storm response in North Carolina.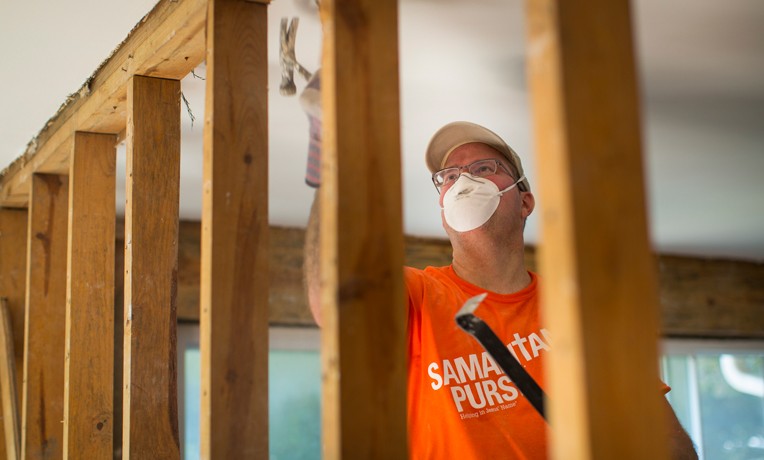 Ayuda para desastres en EE. UU.
Samaritan's Purse moviliza y equipa a miles de voluntarios cada año para ayudar a las víctimas de emergencias dentro de EE. UU. que han sufrido por fuegos forestales, inundaciones, tornados, huracanes y otros desastres naturales. Después de los daños producidos por las grandes tormentas, usualmente nos quedamos para reconstruir casas para las personas que no tienen a dónde más acudir por ayuda.
---
Ayuda para desastres en EE. UU.