This offer has concluded for 2023, but we hope that the other resources on this page will continue to help your school get involved in shoebox packing with Operation Christmas Child.
Thank You for Getting Free Shoeboxes!
"Partnering with Operation Christmas Child has allowed students to experience what it means to impact their society for Christ."
Ordena artículos gratuitos
Brochures, promotional inserts, prayer guide bookmarks, posters, DVDs, and more are all available for you to give your students to make the packing process fun and easy.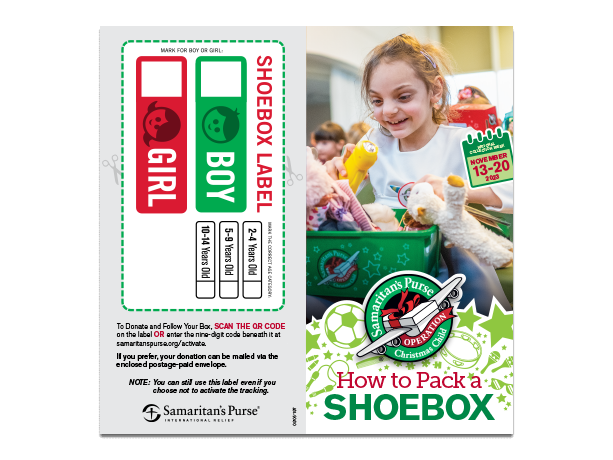 Folleto "¿Cómo empacar una caja de regalos?" (en español)
Este folleto incluye instrucciones paso a paso, una etiqueta para una caja y un sobre prepagado para donaciones.

Atención: cada folleto contiene una etiqueta. 1=1


Adhesive Shoebox Label Sets
Incluye instrucciones en el reverso
Order a set of 50 adhesive shoebox labels for your shoebox packing.

Scan or enter the code on your label to give your suggested $10 donation online and activate tracking for your label. This step is not necessary to use the label, but it will allow you to discover the destination of your shoebox.

Entire sets of 50 labels can be activated simply by entering the nine-digit code on one label and selecting the option to activate the whole pack. If you need a single label, consider ordering our brochure that includes a label.

For more than 30 sets (1,500 labels), contact occinfo@samaritan.org.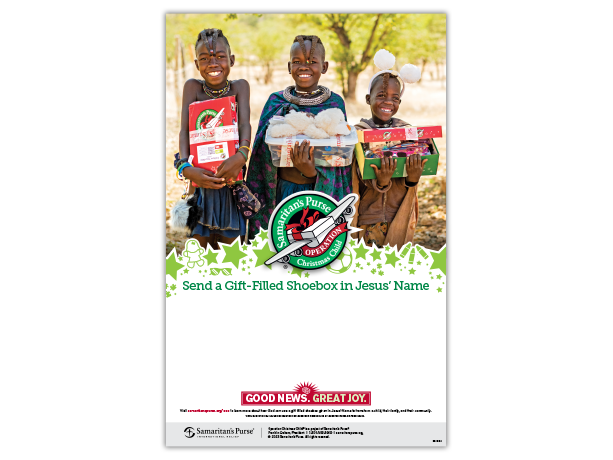 Póster (en español)
Promueve eventos locales de Operation Christmas Child al adaptar y publicar estos pósteres en las aulas para clases, salas de reuniones, negocios, centros de entrega y en tu vecindario.
Materiales y publicaciones en español.
The following guides provide creative ways to use Operation Christmas Child to add to your students' educational experience.
Incorporate Operation Christmas Child shoebox packing into a chapel service. Include spiritual life personnel in the program planning to help encourage campuswide participation.

Incorporate Operation Christmas Child shoebox packing into a class or schoolwide project. This event can consist of a school-sponsored packing party and/or a collection of individually packed shoeboxes.

Students are encouraged to invite friends who do not know Jesus to participate in an event to pack shoebox gifts for children around the world. The goal is for students to share the Gospel at the event. This can be done in large or small group settings.
"I want every child to know there is a God who loves them."