A community event in Charlotte celebrates the hard work of shoebox packers and volunteers across the U.S.
Operation Christmas Child
013477
Samaritan's Purse President Franklin Graham today thanked the thousands of volunteers who are currently working in eight processing center locations across the U.S. to prepare millions of Operation Christmas Child shoebox gifts for international shipment. Headed to over 100 countries this year, the gift-filled shoeboxes will bring great joy and the Good News of Jesus Christ to boys and girls in need.
"Thank you so very much for being here and being a part of Operation Christmas Child. We couldn't do it without you," Graham told the audience of volunteers at our Charlotte Processing Center on Dec. 2.
"I just want to thank you, the volunteers, the churches, the pastors, but more importantly the families that packed theses boxes…Every box is important because every box is an opportunity to tell a child that God loves them."
He continued and addressed the COVID-19 pandemic, which has disrupted so many things around the world over the past two years. "The pandemic has been tough. It's been hard on everybody and it's been especially hard on the children of world—the fear and now the new variant," he said.
"I'm not going to let that stop me from doing what I believe God has called me to do. Thank you for not letting that stop you."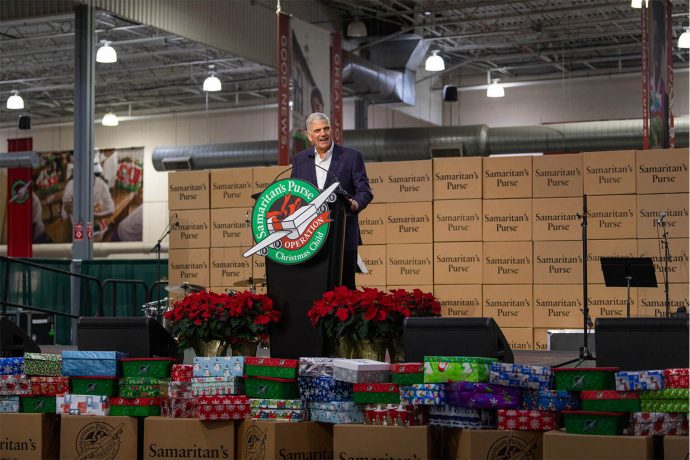 'Hope for the Very First Time'
Emcee Izabella McMillon, Samaritan's Purse speakers' bureau manager who is herself a shoebox recipient from Romania, celebrated all of those people across the country who took the time to prayerfully fill shoeboxes with toys and other fun items for children around the world. As just one example, she welcomed to the stage Yuri Lopez, who rallied her Georgia community to pack almost 1,500 shoeboxes this year.
Yuri knows the power of a shoebox gift firsthand. While living in one of the 14 orphanages in Honduras where she spent her childhood, she "experienced hope for the very first time" when she received her gift-filled shoebox. The most important thing she found inside was a note from the little girl who sent it. It read, "Jesus loves you and I love you too."
Seven years later when she questioned whether God really cared for her, she read that very note again and it changed everything.
"That day I embraced God's love and accepted Jesus Christ as my Lord and Savior," Yuri said.
Yuri is just one of the more than 188 million children around the globe whose lives have been touched by an Operation Christmas Child shoebox gift.
It's About Sharing the Gospel
Edward Graham, son of Franklin Graham and assistant to the vice president at Samaritan's Purse, opened the event in prayer. He gave God the glory for how He uses gift-filled shoeboxes as a means to share the Gospel around the world.
Nearly 2.4 million shoebox gifts are expected to be processed in Charlotte alone this season—and it's just one of eight locations we're using across the U.S. Today, just before the event, the Charlotte site hit the 1-million-box mark for the year.
Throughout this community event, the Tommy Coomes Band, as well as the student choir from Metrolina Christian Academy in Indian Trail, North Carolina, accompanied the celebration with festive music about the birth of Jesus Christ, God's Son.
It's not too late to pack a shoebox! You can still Build a Shoebox Online or drop off your traditional shoebox gifts at one of our eight processing centers through mid-December!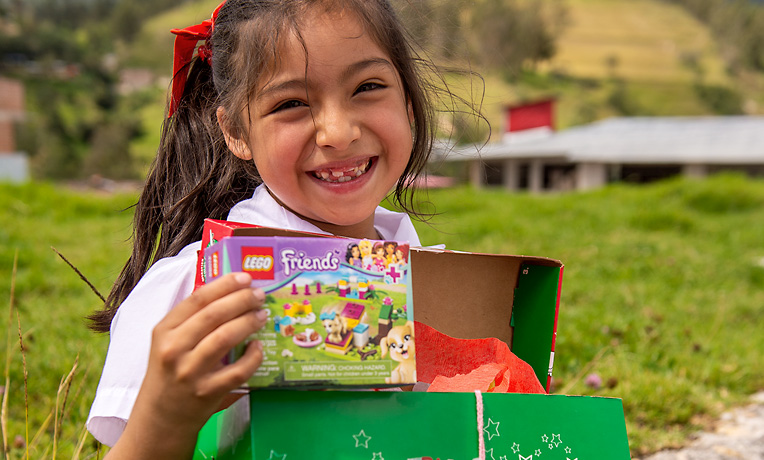 Operation Christmas Child
Through Operation Christmas Child, Samaritan's Purse is sharing the Good News of Jesus Christ with millions of boys and girls in more than 100 countries each year. Many of these children have never before received a present or heard the true meaning of Christmas—until they open a gift-filled shoebox from a person like you. Some people are not able to give the $10 per shoebox we request for shipping and related costs. By adopting a shoebox, you can partner with them to deliver the Gospel and help "bring salvation to the ends of the earth" (Acts 13:47, ESV).
---
Operation Christmas Child 013477
Adopt a Shoebox: $10 | Adopt a Carton of 15 Boxes: $150