An Operation Christmas Child partner uses his past experiences to reach out to the children of Guadalajara, Mexico.
Hilario Morales' large stature is dwarfed only by the size of his giant heart. Within it, he seems to store enough love for all of the children in Mexico. But it wasn't always that way.
Give a Shoebox Gift
For years, his heart was filled with fear and hatred.
When he was just 6, Hilario became one of countless street children living in Mexico. In the beginning, he begged and did odd jobs on the streets to help get money for his mother. Soon—like so many street children who try to stave off hunger, cold, and pain—Hilario turned to drugs.
At first, the drugs came freely; then, once he was addicted, he had to pay for them. He didn't have any money, so he stole.
"It's totally a prison," he said. "I started [doing drugs] when I was 7 years old. When I talk with the street kids, they tell the same stories. The father abandoned the kids, the mom has to go out and work; a lot of people start to abuse the kids, hitting them, sexual abuse. So, the only liberty from this is the drugs, violence, and the need to have power. That's how the kids of the street live. The heart gets hard. and no one can break it."
At least, that's what he thought when he was sentenced to 21 years in prison. The prison guards and his mother told him that he could never change, and he believed it.
So when Pastor Reynaldo began to visit the prison and talk about how Jesus Christ wanted to change Hilario's life, he scoffed at the notion, wondering why God didn't change it before he ended up on the streets.
Hilario cursed at Reynaldo until he left, but Reynaldo returned. Again and again, Hilario threatened him, but still Reynaldo persevered.
"Something that made an impact in my heart was that he was persevering and he was really patient with me," Hilario said. "I could see something really different in him. I was learning to see the love of God through a person."
But internally, he struggled. He had become a leader in the prison, a position attained through violence and by imposing fear in the other inmates. He worried that if he turned away from that lifestyle by accepting Jesus Christ, he would lose the status and respect of other inmates.
Hilario decided that he had to stop Reynaldo from coming back, so he sent a letter threatening to kill him. The next week, he was amazed to see Reynaldo in his usual spot, preaching his usual message. Infuriated, Hilario approached Reynaldo with a knife, but Reynaldo didn't budge.
"When I was gonna hurt Reynaldo with the knife, I just heard these words: 'Hilario, I love you, and all my heart is for you,'" he said. "I could hear a really special voice. And this voice, I know that it was directly from God."
From that moment, Hilario surrendered his life to God. He began to preach in the prison. He quit taking drugs, stealing, and fighting.
Fundación Emmanuel
Miraculously, he was released from prison 11 years early. He founded Fundación Emmanuel, a home for abandoned and street children who have nowhere to go. Through the foundation, Hilario gives them a home, provides an education, and shows them the love of Jesus.
"[In the streets,] they live a life without hope, but when Jesus comes to their hearts, their lives are transformed and Christ comes to makes the difference in them," he said.
For many years, Hilario tried to give the children at his foundation the things he never had as a child—treats, fun outings, and most importantly, a father figure. He hosted parties and tried to give gifts to every child who attended, but he often struggled to raise enough support to provide the gifts.
Then he heard about Operation Christmas Child.
Eight years ago, he began volunteering as a regional coordinator for Operation Christmas Child in Jalisco, handling the distribution of about 30,000 shoebox gifts each year to children in the area. With the shoeboxes, Hilario is able to share the love of God with children who live in areas of extreme violence, drug use, prostitution, and gang activity. At each shoebox distribution, the church and ministry partners who distribute the gifts share the Gospel, and lives begin to change.
About five years ago in Hilario's own neighborhood, the children were invited to a Bible class after a shoebox distribution. Eventually, the parents started attending and started a prayer meeting. Now Hilario is the pastor of a church across the street from Fundación Emmanuel.
There are more than 120 communities in Jalisco state, and Hilario hopes to reach all of them through Operation Christmas Child. So far, he has coordinated distributions in nearly 50 communities.
"Each year, we look to give more shoeboxes to new kids who have never received them," he said. "When a kid receives a shoebox, he sees the toys and plays with the toys, but there is also a question in him. 'Why me?' So through the shoeboxes, we get to the hearts of the kids and tell them how much God loves them. There are kids that have a hole in their hearts, and they start to fill it with all of these evil things: drugs, violence, robbery. So when we give out the gifts, there starts to be a hope in them, and they start to leave the drugs, the violence, the robbery; and they start to fill it with the love of God."
The Greatest Journey
Since 2009, children who receive shoeboxes have had the opportunity to participate in a 12-week Bible study called The Greatest Journey.
Last spring, about 60 children at Hilario's church and Fundación Emmanuel were introduced to Jesus Christ through the lessons. They learned what it means to follow Him and share their new faith with their friends and family.
Ten-year-old Karen Herrera had never heard about Jesus until the Gospel was presented at a shoebox distribution that she attended at Hilario's church. After she received her gift, she decided to attend The Greatest Journey.
"Most of all, I'm happy because I got a New Testament Bible," she said. "When I took the lessons, I invited Jesus into my heart. I learned that He's my Savior."
She can't wait to share her new-found faith in Christ with her cousins and siblings.
Like Karen, Hilario says he will never stop sharing the Good News of Jesus Christ with the children and people of Mexico. He sees the gift-filled shoeboxes as opportunities to demonstrate God's love to hearts that are beginning to harden but aren't yet solid.
"When the people have Jesus Christ in their hearts, they stop living in evil," he said, "One of the things that I thank God for is that through all the things that I lived, today I can understand all these kids and youth, all of these people that are in prison, and I realize that Jesus prepared me. It was a really hard way to prepare me, but He prepared me."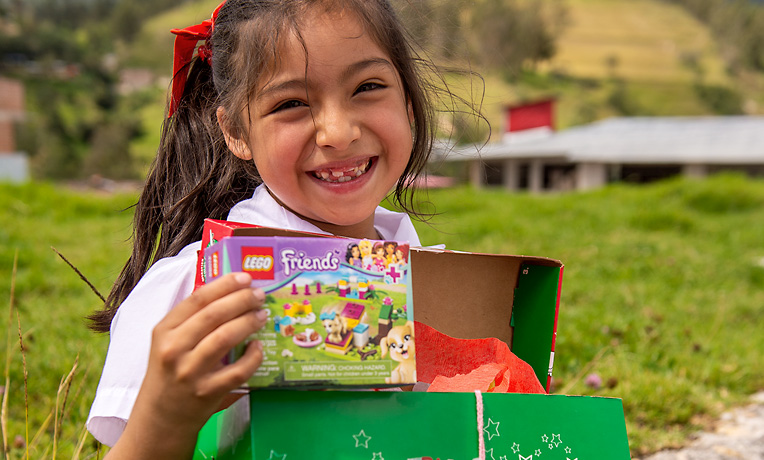 Operation Christmas Child
Through Operation Christmas Child, Samaritan's Purse is sharing the Good News of Jesus Christ with millions of boys and girls in more than 100 countries each year. Many of these children have never before received a present or heard the true meaning of Christmas—until they open a gift-filled shoebox from a person like you. Some people are not able to give the $10 per shoebox we request for shipping and related costs. By adopting a shoebox, you can partner with them to deliver the Gospel and help "bring salvation to the ends of the earth" (Acts 13:47, ESV).
---
Operation Christmas Child 013477
Adopt a Shoebox: $10 | Adopt a Carton of 15 Boxes: $150