A farming couple in Wadsworth helped pack 5,000 gift-filled shoeboxes this year, while representing Christ both at home and abroad.
Operation Christmas Child
013477
Drive down River Styx Road just outside Wadsworth, Ohio, and you'll come across the "Styx and Stones Farm" sign. Pull in the driveway on any given Saturday morning in the fall, and it will be tough to find a spot to park. On one edge of the driveway sits a barn that's at least 175 years old, complete with original rough-hewn timber. The door is open revealing strands of lights hung from the ceiling; tables bearing scores of toys, school supplies, and other fun items; and a pile of red-and-green shoeboxes stacked high against the far wall.
For two hours each Saturday, people from the community come here to assemble cardboard shoeboxes, write notes to the boys and girls who will receive them, and pack the boxes full with items that will delight their hearts—all before praying over them to have a safe journey overseas.
This year, Matt and Kristel Stone—grain farmers born and raised in Wadsworth—will host 40-some events like this in their barn with more than 1,000 people attending. The community is coming together to pack 5,000 Operation Christmas Child shoebox gifts for children in need around the world.
Packing in Mom's Memory
As you enter the Stones' barn, there's a picture frame propped up on a beam on the righthand side with a caption that wishes heaven had visiting hours. Pictured there is Matt's mom, Jennie Stone.
Jennie had the opportunity to deliver shoebox gifts to children in Mexico in the early 2000s and came back from that visit transformed. Matt notes that she was always a loving and caring mother who helped lead a Christ-centered home. But when she came home from that trip, she was different.
"I saw her heart just come alive for that which Christ's heart beats, too, when she got to deliver a box to a child in need," Matt said. "I'll never forget that because she came home changed."
One of the boys she interacted with on that trip opened his shoebox gift, dumped out all the items, and proudly put on the pair of sunglasses that was inside it.
"That little boy thought he got a million dollars for sunglasses," Kristel said, "that little boy felt for the first time that somebody saw him, so we make sure every box has sunglasses."
Every year after that, Jennie hunted down empty shoeboxes from local stores and worked to gather items to fill them, all with her family in tow. Matt and Kristel's children—Jaden, 16, Addison, 14, and Sophia, 12—all remember packing boxes with Grandma Jennie. Their efforts blessed 50 children around the world each year as 50 shoebox gifts were packed.
But in the spring of 2015, doctors diagnosed Jennie with multiple myeloma and told her she had 10 months to live. Toward the end of that window of time, she gathered her family and said, "I just want this mission to continue. I just want the need of these children to be fulfilled, and if it's on your heart, please continue. Knowing you guys, you'll probably take it and instead of 50 boxes, you'll probably do 500 boxes."
"I thought, 500 boxes? No way! That's a lot. We'll just keep doing 50," said Kristel.
One of Jennie's other wishes was that they'd be able to use their barn for Operation Christmas Child or a food pantry. But knowing its condition, Matt and Kristel asked, "Have you looked at that barn?"
The Vision Expands
In 2016, as they continued to mourn Jennie's passing, they decided to honor her by cleaning up the barn and hosting one big packing party for Operation Christmas Child.
"We did 1,084 that first year," said Matt. "I remember we came in and sat on the couch and we were almost speechless in a way, but that overwhelming peace brought tears to our eyes. God just showed up in a big way in and around our community and people that we love and cherish were here to experience that."
Matt and Kristel's only regret from the event was that there were so many people and so much activity that they didn't get to talk to everybody at the packing party. So the next year, they created an online sign-up form with open slots for six weeks on Tuesdays and Thursdays from 6 to 8 p.m. and again on Saturdays from 10 to noon.
Kristel prayed, "Lord, if this is what you want, then fill those slots."
Somewhat in disbelief, she admitted that she had to add more openings.
Now in their seventh year, people keep coming and word continues to spread.
"They're coming to the barn to put together something and be a part of something that's much larger than them," Matt said, excited that these new friends get to hear the Gospel in a way that's not just by sitting in a pew on a Sunday morning. "They get to see the work of the Gospel in real time and maybe in a different way."
At every packing event, Matt and Kristel invite people back to the farm and to their home if ever a need arises. Through these invitations, they've gained new friends, some of whom have come to Christ and been baptized.
Coming to Christ by Packing a Shoebox
Kristel first made a decision for Christ at a Billy Graham Crusade in Cleveland in 1994. After a rocky road of beginning to follow Christ, she now has an evangelist's heart and celebrates the opportunity to touch so many lives by opening their property for Operation Christmas Child shoebox packing.
Wadsworth, with a population of roughly 30,000, may have that quintessential small-town feel—Kristel calls it "a Hallmark-like town"—but there are still many who do not know Christ's saving power.
"When I first met Kristel, I wasn't saved just yet," said Jill Fabo. She began attending the packing parties and contributing her organization skills to the process and soon she began to see a change—in herself.
"I was able to understand Christ's love here, just by packing a box," she said. In addition to coming to the packing parties, Jill began attending Bible studies with Kristel as well as working out at the gym with her on Sunday mornings, while watching livestreams of church services afterward.
Jill soon began collecting shoebox items in her basement before the fall packing parties and spent time counting and organizing them in the evenings.
"I got to see Christ's love even though I never received a shoebox," she said, "making one showed me His love."
'Think Outside the Box'
As farmers, Matt and Kristel know that sometimes the harsher the winter, the better the harvest.
"I think about the season of life when the torch was passed on to us," Matt said. "It was a season of mourning [and] it was a season of darkness, but then I think of the blessing that came out of it and the feeling we had of experiencing God's hand at work."
Now each year after every shoebox gift is packed, the Stones gather their community for a celebration where they pray over the shoebox gifts one last time before sending them off.
"The box is surely going to show love to someone," Kristel said, "so we don't have to guess what's going to happen with it. We can trust God in that part just like we trust God in planting our crops in the field. But we still have to do our part. So, think outside the box—fill a box! That will transform your walk with Jesus."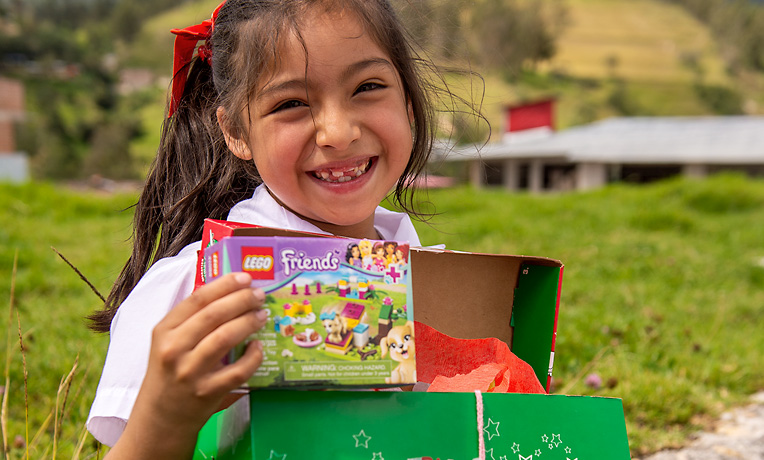 Operation Christmas Child
Through Operation Christmas Child, Samaritan's Purse is sharing the Good News of Jesus Christ with millions of boys and girls in more than 100 countries each year. Many of these children have never before received a present or heard the true meaning of Christmas—until they open a gift-filled shoebox from a person like you. Some people are not able to give the $10 per shoebox we request for shipping and related costs. By adopting a shoebox, you can partner with them to deliver the Gospel and help "bring salvation to the ends of the earth" (Acts 13:47, ESV).
---
Operation Christmas Child 013477
Adopt a Shoebox: $10 | Adopt a Carton of 15 Boxes: $150