A South Carolina boy with special needs marks a milestone birthday by giving to others.
Operation Christmas Child
013477
Today (Nov. 19) is Mason Mulligan's 18th birthday. Like many, he plans to celebrate by enjoying family, friends, and good food. He also wants to make the day special by giving to others. With the help of friends and family, he packed 77 Operation Christmas Child shoeboxes in honor of his milestone year.
This would be an honorable accomplishment for any junior in high school, but this Hartsville, South Carolina, teen lives with Down syndrome.
Mason says he packs shoeboxes in order "to give children what they like to have and make them happy"—and even more importantly, so "they'll know about God."
Exceeding His Goals
Mason and his family have packed shoeboxes together since he was 3 years old. For many years, they packed four boxes—one for every member of their family. But last year when Mason was going to turn 17, he wanted to do something to bless others on his birthday. He set the goal of packing 18 boxes—17 to mark the number of his years plus "one to grow on."
Mason posted his goal on Facebook and through the generosity of others, he packed 37 shoeboxes that year.
Seeing this success, he set his goal for 37 boxes this year—making it double his birthday year and again "one to grow on."
To his surprise, donations kept coming in, so he exceeded his goal by 40 shoeboxes.
A Craftsman at Heart
A few years ago when Mason's older brother Marion got a summer job, their father Richard set out to teach Mason how to make wooden birdhouses and feeders. In time, Mason safely learned to use a miter saw, a table saw, hammer, and nail gun in order to make and sell his products. His finished pieces have the trademark of being sanded especially well because vibrations are soothing to people with Down syndrome.
As word got out about his business, he initially had trouble keeping up with all the orders, but he delights to serve others by making things for them. As an additional bonus, some of his proceeds go to buying items for shoebox gifts.
Gifts Worth Getting
Mason and his mother Tansi love to shop year-round for Operation Christmas Child. At one point, they secured $650 worth of product for $150 due to sales and their negotiating skills. Some of Mason's favorite things to include in his shoebox gifts, packed primarily for 10- to 14-year-old boys, are trowels, protractors, and fishing kits. An avid fisherman himself, Mason carefully assembles collections of line, bobbers, sinkers, and hooks to give his shoebox recipients "a chance to fish."
"If we're going to give, let's make sure it's worth getting."
He also includes toy cars, toothbrushes, notebooks, pencils, and two bars of soap with extra washrags in most of the boxes.
"If we're going to give, let's make sure it's worth getting," Tansi said.
'It's All About the Lord'
Together, Tansi and Mason served as Operation Christmas Child project leaders for their church this year. They faithfully promoted the packing of shoeboxes to Mt. Elon Baptist Church of Lydia, South Carolina, and Mason personally set their group goal of 250 boxes for the season.
"He shows the light of Jesus better than I do," said Tansi, citing Mason's enthusiasm for shoebox packing. She also noted that although he has easily made friends most of his life, he was recently bullied when he began attending a new school. But rather than get bitter, he chose to radiate Christ's love even to those who hurt him by calling them his friends.
Mason prays nightly for his friends with special needs as well as for soldiers, firemen, policemen, and an end to the coronavirus. In addition, he asks God to "help all the kids that get the shoeboxes overseas."
He doesn't plan on stopping his shoebox shopping and packing any time soon. His goal for his 19th birthday is to pack 100 shoebox gifts!
"It's all about the Lord," Tansi said, recalling a song her mother used to sing called "Little is Much When God is In It." She added, "A shoebox gives everybody the chance to be 'in it.'"
There's still time to Build a Shoebox Online.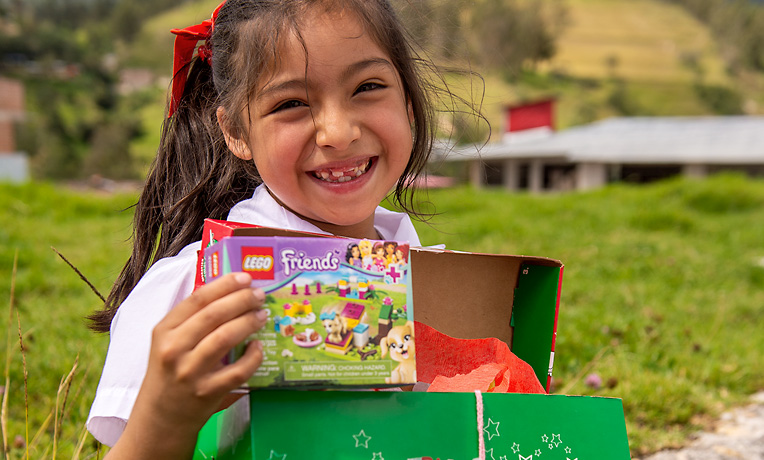 Operation Christmas Child
Through Operation Christmas Child, Samaritan's Purse is sharing the Good News of Jesus Christ with millions of boys and girls in more than 100 countries each year. Many of these children have never before received a present or heard the true meaning of Christmas—until they open a gift-filled shoebox from a person like you. Some people are not able to give the $9 per shoebox we request for shipping and related costs. By adopting a shoebox, you can partner with them to deliver the Gospel and help "bring salvation to the ends of the earth" (Acts 13:47, ESV).
---
Operation Christmas Child 013477
Adopt a Shoebox: $9 | Adopt a Carton of 15 Boxes: $135