Year-round volunteer Kyle Brown works to see the Gospel spread to all nations.
Growing up in a small, rural Texas town, Kyle Brown never thought he would be in a position to help spread the Gospel of Jesus Christ throughout the world.
Yet, serving as a year-round logistics volunteer with Operation Christmas Child has provided Kyle that opportunity as he helps lead White Rock Christian Fellowship to share God's love with children in need across the globe.
This year, the congregation in Bandera—known as the "cowboy capital of the world"—packed 500 shoebox gifts. Kyle said the ministry project has "strengthened the church body."
LEARN MORE ABOUT SERVING AS A YEAR-ROUND VOLUNTEER.
"God is teaching us how to serve together."
"Operation Christmas Child has changed our church because God is teaching us how to serve together," he explained. "It's bringing us closer."
As a logistics volunteer, Kyle oversees the drop-off collection site at the church. He welcomes and hosts community members who bring in their shoebox donations—the first step in a worldwide journey.
Packing Special Gifts
White Rock Christian Fellowship members of all ages participated in shoebox packing parties throughout the year. Children and youth helped pack boxes and made special items to include such as sewing kits and fishing kits.
Kyle is grateful that his three children are able to serve God in such a special way.
"They'll remember for the rest of their lives that God used Operation Christmas Child as an outlet for our family to serve," he said.
Boxes packed by White Rock are unique in that the congregation packs a lot of boxes for boys ages 10-14, and each one includes tools such as hammers, pliers, screwdrivers, and tape measures.
Growing up, Kyle's father taught him how to use tools and to work with his hands, but boys in poor communities overseas don't always have that same opportunity to learn. They may not even grow up with a father in the home.
"These boys need to be able to make a living," Kyle said. "They need to be able to eat, to work, and to do for themselves."
Kyle has experienced joy in volunteering with Operation Christmas Child and watching God use his church family to make an eternal difference in the lives of others.
"Operation Christmas Child has been such a blessing to us. It has made my faith deeper seeing how God has provided."
Interested? Learn more about becoming a year-round volunteer.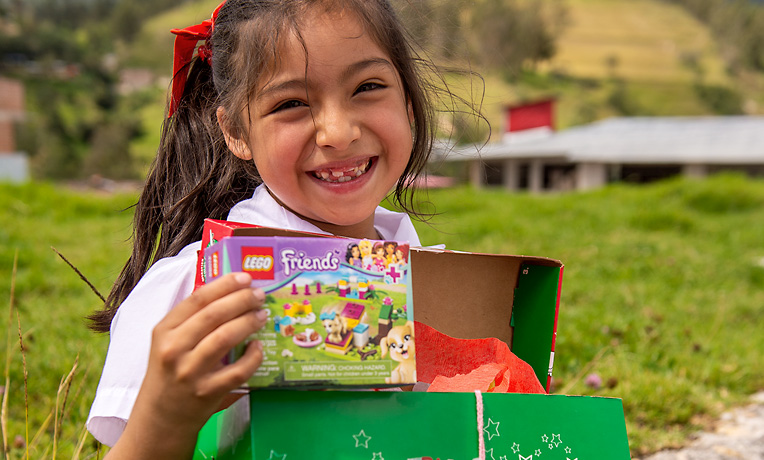 Operation Christmas Child
Through Operation Christmas Child, Samaritan's Purse is sharing the Good News of Jesus Christ with millions of boys and girls in more than 100 countries each year. Many of these children have never before received a present or heard the true meaning of Christmas—until they open a gift-filled shoebox from a person like you. Some people are not able to give the $10 per shoebox we request for shipping and related costs. By adopting a shoebox, you can partner with them to deliver the Gospel and help "bring salvation to the ends of the earth" (Acts 13:47, ESV).
---
Operation Christmas Child 013477
Adopt a Shoebox: $10 | Adopt a Carton of 15 Boxes: $150