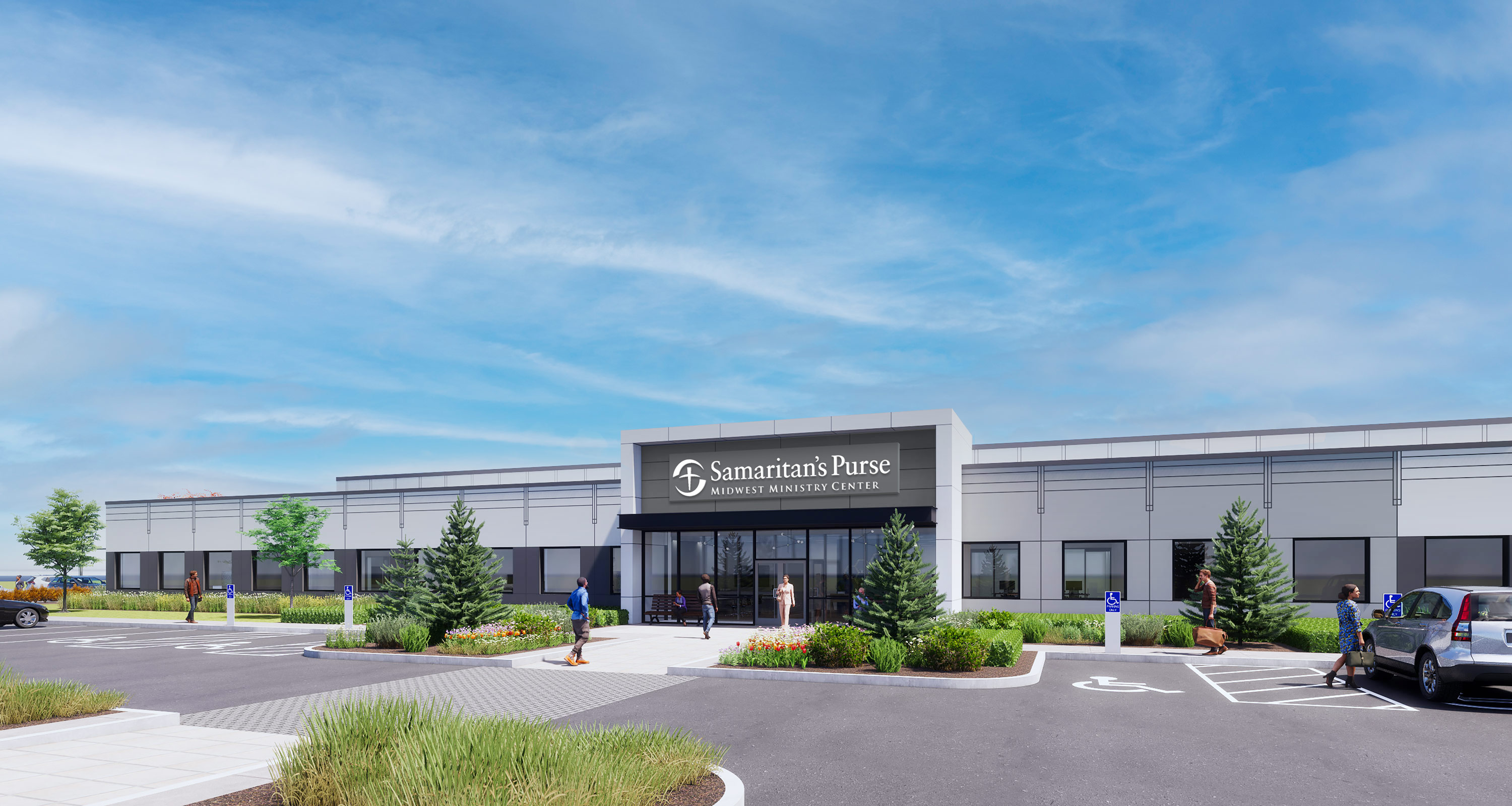 Samaritan's Purse Midwest Ministry Center
800 North Commerce Street Aurora, Illinois, 60504
The Samaritan's Purse Midwest Ministry Center in Aurora, Illinois, is our newest facility dedicated to sharing God's love through His Son, Jesus Christ, with those in need. The Ministry Center provides staff and volunteers with exciting opportunities throughout the year to impact the world with the Good News of the Gospel and help fulfill the Great Commission.
The Midwest Ministry Center is located in the vibrant far western suburbs of Chicago, near beautiful downtown Naperville and only minutes from the campus of Wheaton College—where Billy and Ruth Bell Graham attended school and first met.
Millions of Operation Christmas Child shoebox gifts will be collected all across the U.S. during National Collection Week, Nov. 13–20, and will be brought to our eight processing centers, including the Ministry Center in Aurora. Before these shoeboxes can make their way to children across the globe, they first must be carefully inspected and prepared for international shipment. Tens of thousands of volunteers serve annually at our processing centers. You can participate in this dynamic ministry by registering to process shoeboxes in November and December following National Collection Week. You can volunteer as an individual or with a group of any size and have a direct part in blessing boys and girls overseas with great joy and the Good News of Jesus Christ!
Shoebox Processing
Begins
Nov. 22
Frequently Asked Questions
Where should I stay?

Discounted rates will be offered to our volunteers by several area hotels. Information will be available during registration.
What should I do before I arrive at the processing center?

RSVP

Manage your reservation online at occvolunteersignup.com.

Groups that complete online waivers for all members before arriving at the processing center earn a FAST PASS to expedite the check-in process when they arrive.

FAST PASS criteria: All group members must sign up online and complete the online waiver. The volunteer coordinator must ensure there are no unused slots in the group reservation. (Increase or decrease the group size on your reservation to indicate the number of volunteers who will attend.)

Dress in layers. Please wear closed-toe shoes you will be comfortable standing in for long periods, and warm, layered, casual clothes as the temperature inside the warehouse can vary.

All volunteers must be at least 13 years of age, regardless of a student's grade level. Due to the warehouse environment there can be no exceptions. For every four youth, at least one chaperone is required.

Pray! Prayer is the foundation for everything we do through Operation Christmas Child, and our desire is for every detail of the project to be covered in prayer. We encourage you and your group to spend time in prayer as you prepare for your experience at the processing center. There will also be opportunities to pray during your scheduled time at the processing center.

Leave headphones and valuables at home. Headphones are not permitted in the processing center, and we are not responsible for the damage or loss of personal items left in common areas. Bags and coolers are subject to being searched.

Keep packing shoeboxes! You can drop off shoeboxes beyond National Collection Week. A collection center is set up in the warehouse.
What do I do if my group size changes?

If the size of your group changes, be sure to let us know at occvolunteersignup.com or call 800-442-9120. If it increases, we will need to check availability. If it decreases, we can inform others on our waiting list who want to volunteer.
Where do I park?

Although parking is available at the processing center, due to the high volume of volunteers anticipated, we recommend carpooling or coming in vans or buses.
What happens when I arrive?

When you arrive, someone will greet you to check in your group. Then, your group will proceed to Volunteer Placement, where someone will host your group. Next, orientation and training will take place with your team coach.
How do I make the most of my time in the processing center?

Be flexible. Due to the fast-paced environment of the warehouse, you may be asked to do different tasks. Some examples include removing financial contributions from the shoeboxes, inspecting gifts, and putting shoeboxes in designated cartons.

Training. Your team coach will train you at your table and answer any questions that you may have as you process.

Feel free to take breaks as needed and bring food. Use the vending machines and space to store your meals or snacks on-site. Ice is not provided; however, you may bring your own coolers. All food and drinks must remain inside the break area. Tobacco products are prohibited on the property.
Will there be food available at the processing center?

There may be food vendors on-site at some locations, and you are also welcome to bring your own food to eat in the breakroom area.
Will there be a gear store at the processing center?

Yes! Please note that the Gear Store will be credit/debit card only and unable to accept cash or checks.
Join Us in January and February!
Build a Shoebox Online Fulfillment
Thousands of Operation Christmas Child shoebox gifts that were ordered through Build a Shoebox Online will be assembled by volunteers at the Midwest Ministry Center beginning in January and on into February. Shoeboxes built online go to the ends of the earth to children in some of the hardest-to-reach places—whether deep jungles, city slums, steep mountainsides, or hundreds of remote Pacific islands. Come join us as we assemble these boxes, each one an opportunity to share God's love with a child in need, a boy or girl who may have never heard the Name of Jesus.
Build a Shoebox Online Fulfillment
Begins
Jan. 23
Frequently Asked Questions
What day/times are available?

Tuesday—Saturday, 9 AM to 9 PM
How long will this opportunity be available?

Jan. 23 until mid-February
Is there an age limit to serve?

For the safety of those serving in the processing center, all volunteers in the building must be at least 13 years old at the time of their visit. No exceptions can be made. We require a ratio of one chaperone to every four youth under the age of 18. The primary responsibilities of chaperones are to ensure the safety and appropriate behavior of their youth, to advise them on the proper procedures for their assigned tasks, to help them have a great experience, and to not lose sight of the significance of their work.
What is different about this compared to traditional shoebox fulfillment?

For this project, shoebox gifts built online are packed with items selected by online donors and prepped for shipment, rather than the inspecting of shoebox gifts traditionally packed by donors.
What will we be doing in the processing center?

Volunteers pack the boxes with the items that were chosen by the online donor and support the packing line by restocking items, taping and placing boxes in cartons, and stacking and palletizing the cartons. Each job is important, and every volunteer plays a vital role in spreading the Gospel message to hard-to-reach areas.
What should I wear?

We want your experience at the processing center to be an enjoyable one, so please make proper provisions to be comfortable. Open-toed shoes and sandals are a safety hazard in the warehouse, so please wear closed-toed shoes appropriate for moving around the warehouse floor. We recommend wearing layered, casual clothes because there likely will be some open dock doors, which can cause the temperature inside the warehouse to vary.
Can we take breaks? What about meals?

There is a break area in the processing center. Vending machines are stocked with cold water, soft drinks, juices, and snacks. There will not be any on-site food vendors. You may bring your own meals and snacks with you to the processing center and enjoy them in the break room. Please be aware that all personal bags and coolers are subject to inspection. Ice is not provided; however, you may bring your own ice in coolers. No food or drinks are allowed outside of the break area. Please be advised that tobacco products are not allowed on the property. There are many restaurants in the area surrounding the processing center. The staff at the processing center can advise you of options when you arrive.
Can we bring our filled shoeboxes to the processing center?

Yes, traditional shoeboxes are always welcome! Your shoeboxes will be processed at a later date to prepare them for shipment.
Will there be a Gear Store?

Yes, there will be an on-site Gear Store. Please note that the Gear Store will only accept credit and debit cards.
Looking for a seasonal job with
eternal purpose?
Samaritan's Purse offers paid, seasonal full-time jobs (40+ hours per week) at our Processing Center locations. Employees will facilitate the preparation of shoeboxes before overseas shipping.