An isolated village in the Philippines is changed by the Gospel of Jesus Christ after hearing the message through Operation Christmas Child and The Greatest Journey.
Operation Christmas Child
013477
Pastor Rick and his team knew it would be tough—physically and spiritually—to reach the remote village they had been lifting up in prayer. To share the Good News of Jesus Christ there, the group had to scale steep mountains, cross rivers full of rocks and stones, and push through dense bamboo and vegetation. Their journey deep into the jungles of the Philippines was hot, tiring, muddy, and slippery.
"It's a commitment to get here. It's so hard," said Mary Ann, a member of the church team. "If you don't have the desire to share the Gospel—there's no reason you would decide to come here."
Pastor Rick's group spent about a year traveling back and forth to the village at first and saw little spiritual fruit. "We were discouraged and even questioned if we should continue coming here," he said.
But things began to shift after a shoebox outreach event. "Operation Christmas Child was the turning point in our church's outreach. It opened doors for us—it changed everything," Pastor Rick said.
Outreach opportunities continued during The Greatest Journey. Not only were the boys and girls engaged in the Bible lessons, but their mothers started coming, too. Pastor Rick began a Bible class for the mothers while Mary Ann and other teachers led the children through The Greatest Journey.
"Operation Christmas Child was the turning point in our church's outreach. It opened doors for us—it changed everything."
Saving Faith, Multiplying Faith
Noel was among the children who received an Operation Christmas Child shoebox gift and participated in The Greatest Journey discipleship classes. She also attended the church started by Pastor Rick.
"Everything she received in the box made her really, really happy," Noel's mother Rosemarie said. "She would put the items in a bag and carry it with her wherever she went."
Neither Rosemarie nor her young daughter had ever heard the Gospel until Pastor Rick and members of his congregation came to their poor farming community. Both of them came to saving faith in Jesus Christ.
Then Noel fell ill and died. It was devastating.
As she grieved her daughter's death, Rosemarie took comfort in knowing her little girl is in Heaven. But she also had to deal with ridicule from people in the village who questioned her continued faith in God after such a terrible loss. Though Rosemarie had only been a believer for a short time, she clung to her faith even while others doubted. "At first, I could not accept my daughter's death," she said. "But I learned that if I surrendered my struggles to God, He would see me through. The Lord helped me overcome my sadness and grief."
Many lives were transformed by the Gospel because Rosemarie chose to remain faithful to God during one of the darkest seasons of her life. Among them: Rosemarie's husband. Their four children. Her siblings. Her grandchildren. Her cousins. Her aunt.
"Rosemarie is a pioneer member of this new church and was one of the first to be baptized," Pastor Rick said. "Her testimony really encouraged other people to trust God."
A Pastor's Prayer
Children and adults are now eager to attend the church and to learn more about God.
"I believe that the constant preaching and teaching of the Word of God will transform lives. This is what I envision for the people here," Pastor Rick said.
He is excited about continuing with them on their journey of faith. "I want them to follow the plan of God because God says that His plans are to give us a hope for the future."
"For I know the thoughts that I think toward you, says the LORD, thoughts of peace and not of evil, to give you a future and a hope" (Jeremiah 29:11).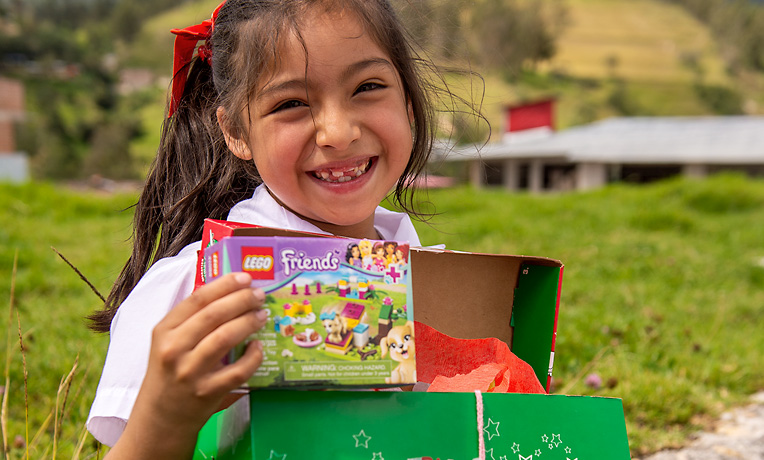 Operation Christmas Child
Through Operation Christmas Child, Samaritan's Purse is sharing the Good News of Jesus Christ with millions of boys and girls in more than 100 countries each year. Many of these children have never before received a present or heard the true meaning of Christmas—until they open a gift-filled shoebox from a person like you. Some people are not able to give the $10 per shoebox we request for shipping and related costs. By adopting a shoebox, you can partner with them to deliver the Gospel and help "bring salvation to the ends of the earth" (Acts 13:47, ESV).
---
Operation Christmas Child 013477
Adopt a Shoebox: $10 | Adopt a Carton of 15 Boxes: $150