Just when a boy from the slums was ready to give up hope, he received an Operation Christmas Child shoebox gift that shined the light of the Gospel into his life.
Operation Christmas Child
013477
Kululu Atsiaya often felt forgotten, especially at Christmas. He knew his family loved him, but life was hard for the boy growing up in the slums of Nairobi, Kenya.
He had heard stories of people receiving gifts, but he had never experienced it or known anyone who had. Most families in his neighborhood struggled to just to get by.
Kululu and his six siblings lived in a shack with several other family members and slept on the bare floor. For Kululu, Christmas was a reminder of what he and his family didn't have—enough food, new clothes, or sometimes even the acceptance of those around them.
The boy felt looked down upon and ignored, especially by those in a nearby gated community who would have nothing to do with people from the slums.
He had heard all too often that stealing was a way to make money.
"The only successful people in my neighborhood were thieves," he recalled.
Though feeling the pull to follow that destructive path, Kululu resisted.
Holding Onto Hope
"The days I used to go hungry were the days that I felt like I needed to go steal, but something would tell me, 'Hold on, hold on just a little bit longer,'" he said.
But it was a daily struggle. Just when he felt like there was no more hope in sight, the then 11-year-old received an Operation Christmas Child shoebox gift.
A local church that provided food assistance in the community was hosting a special event for children at Christmas, where the boys and girls heard the Gospel and received Operation Christmas Child gift-filled shoeboxes.
The shoebox full of school supplies, hygiene items, and toys sent a clear message to Kululu that "somebody loved me."
At night, Kululu would gaze at his shoebox gift that he had placed on the floor close to where he slept. He was captivated by having seen the depiction of a shoebox with wings on our Operation Christmas Child logo and envisioned flying a plane, "taking gifts to poor children like me in various corners of the world," he said, recounting his dreams.
A Glimpse Of Light
Kululu's favorite item in his shoebox was a flashlight because he could use it to light his way home in the slum, which didn't have electricity. Other children in the neighborhood started to follow him, and he guided them home.
"At night as I could light my way through the slum, it made me feel like a leader," he said.
"In a society where you have no one to look up to, all you needed was a glimpse of light, and that glimpse of light came to me through the gift of a shoebox," Kululu said. "It lighted my life not only outside but inside, it was the light of God."
He said that light changed his course in life and set him on a path to follow Jesus.
"That love that's shared in that box was so contagious because through that love, I was able to find the greatest love that a man or human being can ever find, the love from our Lord and Savior, Jesus Christ," Kululu said.
—
Kululu today serves as an Operation Christmas Child spokesperson, sharing his testimony with churches and other groups to encourage them to get involved in the Samaritan's Purse project. To inquire about having one of these representatives speak in your area, contact the Operation Christmas Child regional office nearest you.
You can bless children around the world by prayerfully packing shoeboxes full of toys, school supplies, and hygiene items. National Collection Week is coming up, Nov. 18-25!
Learn how to pack a shoebox today!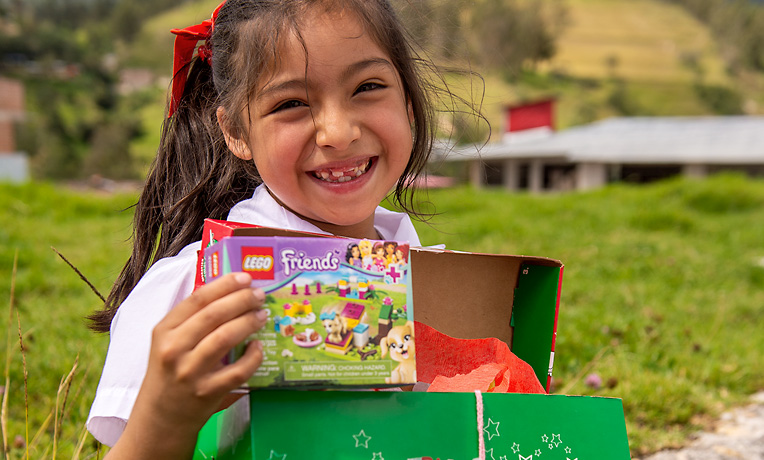 Operation Christmas Child
Through Operation Christmas Child, Samaritan's Purse is sharing the Good News of Jesus Christ with millions of boys and girls in more than 100 countries each year. Many of these children have never before received a present or heard the true meaning of Christmas—until they open a gift-filled shoebox from a person like you. Some people are not able to give the $10 per shoebox we request for shipping and related costs. By adopting a shoebox, you can partner with them to deliver the Gospel and help "bring salvation to the ends of the earth" (Acts 13:47, ESV).
---
Operation Christmas Child 013477
Adopt a Shoebox: $10 | Adopt a Carton of 15 Boxes: $150